Former Mayor says thanks after raising nearly £60,000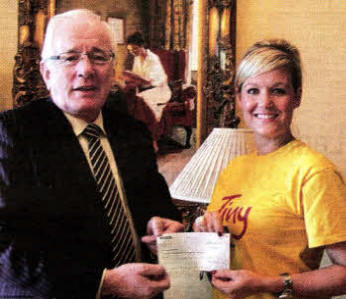 Former Mayor of Lisburn, Councillor Allan Ewart presents a cheque to Mrs. Samara Prentice of TinyLife, which was the former Mayor's Mayoral charity
JUST under £60,000 was raised for charity by the former Mayor of Lisburn, Councillor Allan Ewart during his time in office.
Mr. Ewart raised £52,148.97 for his Mayoral Charity, TinyLife and a further £5,800 for the Haiti Appeal.
Speaking about TinyLife, Northern Ireland's premature and vulnerable baby charity, Mr. Ewart said: "I have been overwhelmed by the support given by the people of Lisburn and the Council staff to help this worthwhile charity I would like to take this opportunity to thank them all on behalf of TinyLife and myself.
The total raised was £52,148.97 and this is a tremendous sum, which signifies the generosity of the people of Lisburn.
When selecting a charity to benefit from my term in office I believed it was important to support a Northern Ireland charity and, as a family man, I chose to raise funds for TinyLife after hearing about its wonderful work.
"The work of TinyLife is something that many of us can identify with, if not directly then through family and friends. TinyLife is dedicated to reducing premature birth, illness, disability, and death in babies born here. It also offers practical and emotional support to ensure that parents of premature and ill babies get all the help they need."
Numerous events were organised throughout Mr. Ewart's term in office including a Bag Pack in Tesco's; a collection in Bow Street Mall; a Fashion Show; a quiz night; coffee mornings; Golf Day at Down Royal Golf Club.
Mr. Ewart was even arrested for 'crimes against his waistline' and Council staff kindly contributed towards his 'bail money'.
TinyLife also benefited from Council organised events including the Mayor's Civic Dinner; the
Christmas Switch On at which volunteers collected for the charity, the Mayor's Parade and the Lisburn Half Marathon.
During his term in office, Mr Ewart also raised £5,800 for the Haiti Appeal to support those affected by the devastating earthquake.
Ulster Star
26/11/2010