Andrea and Taryn complete `gruelling' four day challenge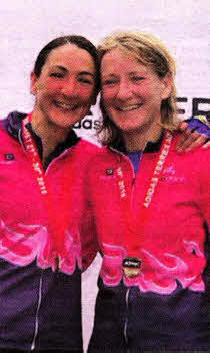 TACKLING quicksand, abseiling over rocky gorges and swimming in freezing water the middle of the night were just some of the challenges local adventure seekers Andrea Harrower and Taryn McCoy faced recently when they took part in a gruelling four day adventure race.
Andrea and Taryn were delighted to complete the Adidas Terrex Adventure Race in the Lake District at the end of August, a challenge they admitted was the "toughest" they have ever faced.
The pair, who are both members of Dromara Cycling Club and Bikedock Belles, a four-woman cycling and multi-sport team, have taken on many extreme challenges over recent years, however, the Adidas Terrex race, the first muitei-day event in the UK in recent years, which took place from August 27-30, was they said, "brutal every step, spin and paddle of the way." The event saw Andrea and Taryn join forces with friends and fellow adventure racers Steve Curry and Ivan Park as part of Team Cooleyraid.com, where they took on 32 other teams, in a line-up that included elite athletes and world champions.
And the local team did their country proud, finishing 19th overall, with them being the only team from Northern Ireland to enter.
The event began on Thursday August 26 with a pre-race event before the main race got underway at 5am on Friday morning, when they tackled the dangerous Morecambe Sands, which included a warning of the risk of death due to quicksand. Speaking after the race, Andrea said the team were "really quite chuffed."
Andrea commented: "The aim was to make the finish line so we weren't trying to do the race as hard as we could, the hardest bit was when the weather was so awful." The Adidas Terre Adventure Race is a four day non stop expedition race, which took the team through Cumbria, trekking, kayaking, swimming and mountain biking their way through the region, up mountains and down rivers in all sorts of weather conditions and at all hours of the day and night.
Andrea admitted that at times things became "scary" for the group.
| | |
| --- | --- |
| | |
| The local team cross the finish line. | Taryn and Andrea during the event. |
She said: "The weather on Saturday night was absolutely attrocious, We were on Scafell Pike (England's largest peak), and guys who live in the area said they were conditions they have rarely faced. Just being in the mountains in conditions like that was scary. That six hour episode was the scariest thing because you feite so vulnerable."
The group finished the race at 11.15am on Monday August 30, however, Andrea admitted that there was a "bizarre feeling", with the team having accepted hours nefore that they would finish if they just kept going.
She said: "On Sunday night we said we have only 12 hours to go so there was a point where everybody in the team thought 'if we just keep going we are finishing now'."
In an event where six teams pulled out overall, the local group were delighted to make it, crossing the finish line with an Ulster flag.
"It was really bizarre when we did finish because you had already accepted it to yourself. When it did happen I think we were just so tired that it took a while to sink in."
However, Andrea has said she wouldn't rule out another such event. "I don't ever do the same event twice, but because I felt strong mentally and physically, I would maybe do something a day of two longer and maybe somewhere abroad, but I would find it hard to say no."
stacey.heaney@ulsterstar.co.uk
Ulster Star
24/09/2010