Annual ceremony remembers Frank Pantridge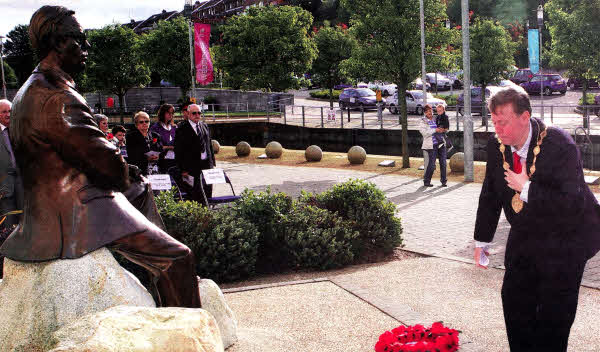 The Mayor of Lisburn, Alderman Paul Porter, lays a wreath at the foot of the Pantridge Memorial Statue during a recent ceremony in memory of
Major Frank Pantridge.
LISBURN City Council recently held its annual wreath laying ceremony in memory of one of its Freemen, the late Major Frank Pantridge.
Members of the Council, the Pantridge Trust and the National Malaya and Borneo Veterans Association (NMBVA) attended the ceremony at the Pantridge Memorial Statue at Lagan Valley Island.
The Mayor, Alderman Paul Porter, said: "On behalf of the Council, I am proud to offtciate this ceremony in memory of Major Frank Pantridge and to remember all the brave heroes who served alongside him in Singapore.
Bravery
"Major Pantridge served in Singapore as a Regimental Medical Officer with the Gordon Highlanders and was awarded a Military Cross in 1942 for bravery while fighting the Japanese in Malaya during World War II. He survived his time in Japanese labour camps including the Siam-Burma railway and returned home to Hillsborough, never forgetting those brave soldiers he left behind."
The Mayor laid a wreath at the base of the Pantridge Memorial Statue during the ceremony.
Improve
On his return to Northern Ireland Mr Pantridge continued his work to improve the lives of others. His wish was granted when as a Professor he became the world-renowned pioneer of the portable defibrillator, which is now routinely used on a daily basis worldwide. He was awarded the CBE in 1979 for his work in cardiology
The Mayor added: "Over recent years the Council has been very privileged to work with the NMBVA and the Pantridge Trust to remember those injured in action who Major Pantridge helped, those who died and the survivors of this regiment."
Ulster Star
15/10/2010