End of an era as famous Lisburn shop set to close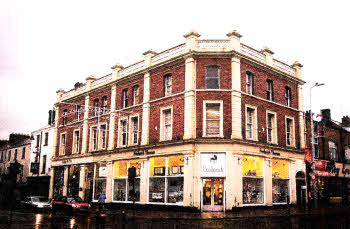 Fredrick Thomas, Lisburn
ONE of Lisburn's best known shops is set to close by the end of the year. It was revealed this week that nursery shop Frederick Thomas (right), located at the corner of Castle Street and Railway Street, will cease trading on Christmas Eve. It is believed the shop's lease is due to run out soon and is not expected to be renewed.
Staff and local customers of the shop, which has been in Lisburn for 38 years, say they are sad to see it go.
"It really will be the end of an era," said Freda Mackin, Manager of the store.
"I've been here nine and a half years and I know our customers are saddened by the news.
"Buying prams at Frederick Thomas is a tradition for many local families and it is a shame we won't be able to continue this," she said.
Freda continued: "The staff and customers are all emotional. We still have good trade and a loyal customer base. Unfortunately the rise of the Internet did affect us but we have managed to carry on regardless.
"I really will miss dealing with our customers as I just love chatting to people. It's always lovely when customers come back to thank us for our help and to show off their babies.
"Some customers are the children of ladies who purchased prams from us too so it is always lovely to hear how people are. I will miss it dearly."
George Robinson, former owner of the shop, who sold it 10 years ago, said it would be a shame for the City.
He commented: "This is a loss for Lisburn. It really is a well known landmark on that corner and it is a pity it will no longer be there."
One customer said: "I always like to look in the window as I'm walking by or sitting waiting in traffic. The shop window on the corner of Castle Street is a real landmark and it will be strange when it goes."
Four jobs will be lost when the store closes its doors for the last time.
Ulster Star
19/11/2010