Fusion of Friends
Zara Wortley, Fusion Youth Co-ordinator (front centre) with Fusion leaders, Lauren Elliot, Rebecca Forsythe, Becky Whittaker, Judie Gordon
and Aimee Jess.

David and Karen Allister with Raymond and Julie Hill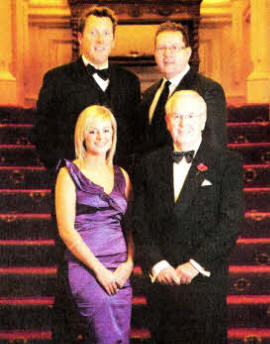 (Back l-r) David Allister with Keith Neill, Youth Outreach co-ordinator and
(front l-r) Zara Wortley, Fusion Youth Outreach Co-ordinator and Ronnie Foreman, NI Ambassador, Haven.
THE official launch has taken place of 'Friends of Fusion' with a gala event in Lurgan's Brownlow House.
The Friends will support Fusion, one of the largest live youth organisation in the UK, with approximately 3000 young people already on their database. They work with teens and young adults to provide safe, alcohol free venues and programmes on a weekly basis ensuring that young people have a place to 'hang out' with friends and someone to talk to when needed.
Fusion is based at Lisburn Cathedral and offers young people an underage nightclub which regularly sees hundreds of young people enjoy their Saturday night in safe surroundings to the sounds of the latest dance music. They also benefit from a games room, lounge, coffee shop and 'The Venue', a late night music café which features NI's finest local bands and artists along with a number of programmes to help them deal with the vast number of issues of growing up in the 21st century.
'Friends of Fusion' has been established to encourage the community to help with the running of Fusion both in terms of financial and hands on support in a bid to help the young people of tomorrow build a better life for themselves.
Keith Neill, Youth Co-Ordinator at Fusion said: Our aim is to develop a range of programs, events and services that meet the needs of young people from their teens through to their student days.
"We are building bridges between young people, education, society and church by addressing the pressing issues and pressures that they are struggling with on a daily basis, in order to do this effectively we rely heavily on volunteers and funding from people who care and who want to help make a difference to the future of society.'
Fusion are also supporting the charity Haven, which is helping to re-build the homes which were lost in the Haiti Earthquake by encouraging young people to travel out and help wath the re-building..
Haven's NI Ambassador, Ronnie Foreman, said he was looking forward to the new partnership.
'As a charity we have been supporting Haiti for many years. Even prior to the earthquake things were simply appalling with more homelessness and lower life expectancy than most other countries in the world.
"Our partnership with Fusion will offer these young people a number of opportunities to help those in need and our collective goal is to see them channeling their talents and energies into something incredibly worthwhile that can result in real lives being saved and quality of life being improved for those in Haiti.
"Those over 18 years old will also be given the opportunity to apply for a place on one of our Build It Week teams. Each year we send out around four teams of 250 people and on average each team is able to build 60 homes, so this is a tremendously worthwhile initiative in which we hope some of those from Fusion will be able to become involved as well as providing general fund-raising support."
The event in Brownlow House saw approximately 130 business people and influential community leaders join forces to support both Fusion and Haven.
For further information on Fusion and the work they do or becoming a 'Friend of Fusion' visit www.fusionlisburn.com. For more information on Haven or to sign up the charities next Build it Week in Haiti please visit www.havenpartnership.com.
Ulster Star
03/12/2010