Fusion Theatre take to the stage for fundraising drive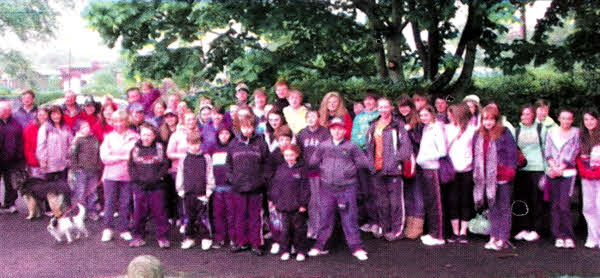 Members of Fusion Theatre head off on a sponsored walk.
LOCAL youth theatre group, Fusion Theatre, are taking another 'leap of faith' on July 30, when they compete in the prestigious Buxton Gilbert and Sullivan Festival.
This is the first time the competition has been open to youth groups, and Fusion beat off a number of other schools, colleges, and youth societies from all over the UK and Ireland to win a place in the weeklong youth festival.
They will be performing 'HMS Pinafore, which the cross-community group performed to near sell-out audiences in the Island Centre in February.
However, the cost of transporting a cast of 60 together with band and crew is enormous, and the talented youngsters have been involved in fundraising events over the last few weeks including a sponsored walk last Saturday from Belfast to Lisburn.
Shoppers in • Bow Street Mall also got a taste of busking on a larger scale when Fusion entertained passers-by with songs from the musicals.
As a result of the reception Fusion received during their busking in Bow Street Mall the group has decided to perform a concert on Saturday June 12, at St Colman's Hall, Derriaghy.
The concert will include musical numbers from the concerts and productions mounted by Fusion over the years, including HMS Pinafore, Les Miserables, Titanic and Pirates of Penzance. Conducted by their Director and Musical Director Ian Milford, and choreographed by in-house choreographer Rebecca Leonard, the show looks set to be a real showcase of the group's wide-ranging experience, with something for everyone.
Tickets for the concert cost £5 and £3 for children.
They can be obtained from any member of Fusion Theatre, or at the door. The show starts at 8pm.
Ulster Star
04/06/2010