Fusion won't stop believing you can help them win on TV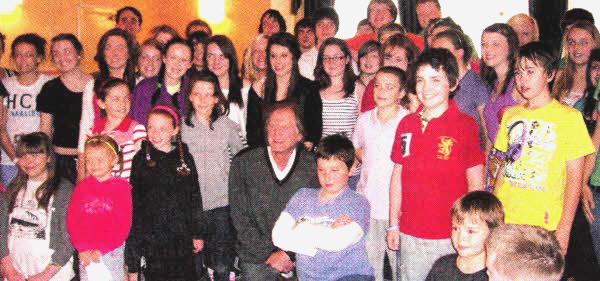 The cast of HMS Pinafore meeting Harry Potter star David Bradley.
A LISBURN musical theatre group is asking local people to tune into Channel 5 on Sunday and show your support to keep them in a national talent competition.
Fusion Theatre will be hitting the small screen in the hit show 'Don't Stop Believing'' the new Glee themed show. And they need your votes to keep them in.
'Don't Stop Believing'' hosted by former spice girl Emma Bunton, is searching for the UK's best singing and dancing group with judges Tamzin Outhwaite, Duncan James' singer Anastasia and choreographer Chucky Klapow.
Fusion entered the competition after their choreographer Rebecca Leonard spotted the advertisement for auditions. However, the closing date was that night and the group had to quickly complete an online form and email an audition tape that day to make the deadline. Fortunately their efforts were rewarded when the group of 29, aged between 14 and 23 years, were invited for an audition in the Crescent Arts Centre in Belfast.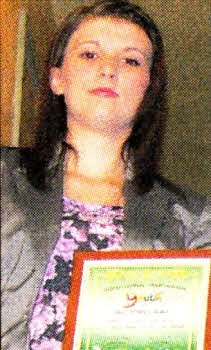 Shortly, they heard they had been successful in beating over 2,000 groups to reach the live heats - but weren't allowed to tell anyone until nearer the broadcast. Ryan McNally (14) said: "We were over the moon when we heard that we had been successful, especially as the show has been widely advertised in the media. We have been sworn to secrecy and it has been really hard keeping it a secret from all my friends in school. They're going to have a nig surprise when they see me on the show." In the last few months the group have been rehearsing with the show's choreographers and vocal coaches to perfect their song 'Walking on the Sunshine' - originally made famous by Katrina and the Waves. The creative team have been assisted by Fusion's Rebecca and Raymond Walsh, who are not only singing with the group, but are also musical directors in the Don't Stop Believing show.
TV Producers Claire Callaghan and Iain Peckham said: "We loved Fusion as soon as they walked into the audition. They had great energy, were good fun, but they also worked hard and took instruction easily during the audition. For this reason we felt the song choice of 'Walking on the Sunshine' was perfect for them."
Already this week Fusion have been featured a number of times on Channel 5 in the lead up to the show.
Viewers have had the opportunity to catch their story throughout the week. Musical Director, Raymond Walsh added: "We have loved every minute of being involved in the show. The Fusion group are extremely talented and it would be a fantastic opportunity to reach the ftnal and showcase the talent in Northern Ireland, but we need the Northern Ireland public to get behind us and vote!"
The group headed to London on Thursday to prepare for the show and will perform this Sunday at 5.45pm. Fusion thank Alan Graham at the Sew 'n' Knit Centre for providing specially designed t-shirts for the cast and their supporters and Solo Recycling for sponsoring the group.
| | |
| --- | --- |
| | |
| Fusion members who are taking part in Don't Stop Believing this weekend. | Members of Fusion Theatre with their award from the Buxton lnternational Gilbert and Sullivan Youth Festival |
...and they've scooped top prize at big festival
THIS has been a big week for Fusion Theatre, for only are they preparing for their performance on Don't Stop Believing, they are also celebrating after scooping the top prize at last weekend's Buxton International Gilbert and Sullivan Youth -Festival with their performance of HMS Pinafore.
Fusion already had to beat a number of other schools, colleges and youth societies from all over the UK and Ireland to gain a place in the week-long youth festival to perform 'HMS Pinafore', which the cross-community group performed to near sell-out audiences in the Island Centre in February.
Under the musical direction of Ian Milford and choreographer, Rebecca Leonard, the cast gave an outstanding performance at the Buxton Opera House and received many compliments from the many Gilbert and Sullivan experts. The group were acclaimed by the adjudicator, David Turner former director of West End Production of The Mousetrap.
Chairperson Anne McCleary explained: "We have competed in the past at the Waterford International Festival of Light Opera, but this was a whole new ball game travelling to Buxton, where our audience comprised Gilbert and Sullivan fans who know their Gilbert and Sullivan inside-out, and who are used to an exceptionally high standard of performance."
Fusion were over the moon when it was announced they had won the top prize of 'Best Show'' especially as this was the first year of the youth section of the Festival. Hannah Conlon also won 'Best Female Singer' for her performance as 'Josephine' in the show.
In addition the cast had an unexpected pep talk from a Holywood movie star when David Bradley from the Harry Potter films agreed to speak to them during rehearsals when it was discovered that he was staying at the same hotel.
David, who plays the caretaker of Hogwarts, Argus Filch, answered questions and talked about the latest movie project he was involved in. He very patiently signed autographs and posed for photographs with each of the cast members.
Jessica Webb, who is a huge Harry Potter fan, said: "We first noticed Argus Filch while we were in the breakfast room of the hotel. Word spread quickly around the 60 cast members and I ve never seen everyone take so long to eat their breakfast!"
She continued' "One of our chaperones approached him and asked if he would mind talking to us and he said it would be his pleasure. He was really lovely and stood for over an hour having photographs taken and signing autographs. We thanked him by singing to him before he left. It was a fantastic experience to actually meet one of the characters from the Harry Potter movies."
Fusion are now looking forward to defending their trophy next year by competing in the Buxton Festival in their new venue, the Pavilion Arts Centre.
julieann.spence@ulsterstar.co.uk
Ulster Star
06/08/2010