`The proudest day of my life'
LISBURN SOLDIER RECEIVES GALLANTRY MEDAL FROM QUEEN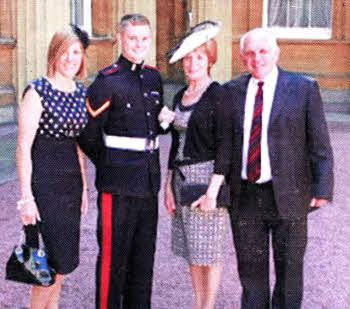 A SOLDIER from Lisburn has received one of the country's highest awards for bravery - the Conspicuous Gallantry Cross - after risking his life three times during a battle in Afghanistan. Lance Bombardier Gary Prout (27) from the Fire Support Team of the Royal Regiment of Artillery received the honour, second in importance to only the Victoria Cross, for risking his life on three separate occasions, in an attempt to save a colleague during operations in Afghanistan in March last year.
The citation reads: "Prout consciously risked his life, on three separate occasions, and it was a miracle that he himself was not killed. He displayed the most incredible courage."
The investiture itself was conducted recently by the Queen and Lance Bombardier Prout said when he received his medal it was the proudest day of my life.'
It was an unbelievable experience and by far the proudest day of my life," he said.
"It had the added surprise of my great uncle Wesley Livingstone collecting an MBE for services to music and the community of County Down. No one in the family knew we would both be there at the same time," he added.
julieann.spence@ulsterstar.co.uk
Ulster Star
11/06/2010