Gemma starts work on leukaemia research protect
by MARY MAGEE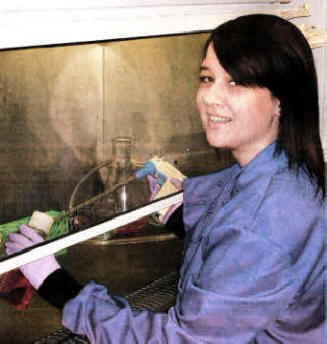 Gemma Logan working in the CCRCB
A YOUNG Moira woman who graduated this summer with a first class Honours degree from Queen's University has started on a further research study programme which it is hoped will lead to a better understanding of leukaemia and how to tackle it.
Gemma Logan is being supported for her studies to gain a PhD at the Centre for Cancer Research and Cell Biology (CCRCB) in Belfast by the Northern Ireland Leukaemia Research Fund.
The studentship is part of a five-year support package announced earlier this year by the NILRF for over £350,000 for the leukaemia research team, led by Professor Ken Mills.
Professor Mills said :"Without the support of the NILRF we would not be able to progress as fast as we had hoped towards a better understanding of leukaemia and develop new therapies."
Gemma will be supervised by Professor Mills and Dr. Melanie Percy during her research programme and will examine the role of a specific family of proteins called ASB.
One aspect that Gemma will investigate is why different types of acute myeloid leukaemia (AML)
have different amounts of the ASB proteins. She will also study the role of the ASB proteins in normal blood cell development and has already been in contact with other researchers in Denmark to further this work.
Gemma said: "I'm very excited to be undertaking this research and very grateful for support that the NILRF have provided" The NILRF said they are proud that all the money raised in Northern Ireland support! leukaemia research in Northern Ireland.
NILRF Chairman, Mr. Bill Pollock said: The N1LRF is pleased to support Gemma in her research study programme. I am confident that under the leadership of Professor Ken Mills, Gemma's research will greatly assist in increasing our knowledge of leukaemia and a progression towards new treatments .
For further information on the activities supported by the NILRF or how you can help the NILRF, contact Frances Parker on 9097 2928, email admin@leukaemia-ni.org or visit the website at www.leukaemia-ni.org
Ulster Star
03/12/2010