Local 'rose' Gemma is ready to bloom
Lisburn social worker through to the final of Rose of Tralee
by JULIE ANN SPENCE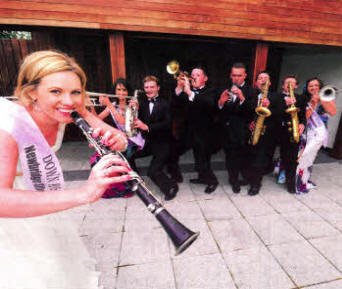 A SOCIAL worker who works in a children's residential home in Lisburn has made history by becoming the first 'County Down Rose' to make it to the finals of the prestigious Rose of Tralee International Festival.
Gemma Murphy (24), who lives in Newry, has really bloomed during her Rose of Tralee experience and is eagerly anticipating the final, which will be televised at the start of next week.
Representing County Down, Gemma never aspired to become a 'Rose' but she is certainly making the most of the opportunity and loving every minute of the once in a lifetime experience.
"The County Down organiser contacted my family business, Jack Murphy Jewellers in Newry, to see if we could sponsor a tiara. Unknown to me the person they were speaking too suggested I would make a good Rose'" laughed Gemma. "The County Down organiser phoned, emailed and texted me but I kept telling her I didn't want to do it. I eventually caved in just two hours before I had to be interviewed by the judges.
"This is the first time the County Down Rose has made it to the Rose of Tralee and I already feel like I'm a winner.
"I am having an absolute ball and I already know I have made lifelong friends."
Gemma admits she is nervous about the televised shows but is determined to do her best. "I will be nervous about the TV part because I have never been on stage before. It is not something I am used to, I hate being the centre of attention.
"It will be a ten minute conversation so I will just try to forget I am on TV. I am nervous that I might fall over or something but once I get started I'm sure it will be fine.
"There are 32 fabulous girls taking part and I don't know how you would pick a winner. I feel like I have won already just to get here and I have had such a fabulous time and I will come home with so many new experiences and friends."
Gemma will have lots of local support during the festival as children from the Lisburn home make the journey to Tralee to cheer her on. "I love being in Lisburn and I love all the young people I work with'" said Gemma.
"We held a little fundraising event recently so that the children from the home could travel to Tralee. They will be camping out there and supporting me all the way."
julieann.spence@ulsterstar.co.uk
Ulster Star
20/08/2010