Family's holiday hit by Goldtrail collapse
by JENNY MONROE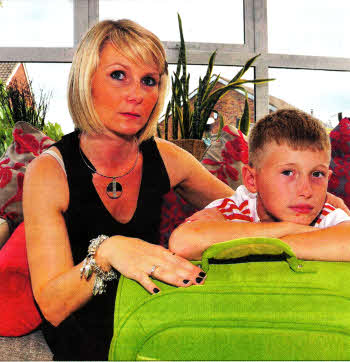 A LISBURN mum and her son have been left to sort out an alternative holiday after the firm they had booked with collapsed just hours after she had booked.
Michelle Wilson booked flights for her son Jamie and herself to go to Turkey with tour operator Goldtrail last Thursday.
On Friday she still hadn't received flight confirmation so she e-mailed Goldtrail to get her confirmation details. She received an e-mail at 2pm. Two hours later it was announced the company had collapsed.
Her money will be refunded by the Civil Aviation Authority, but she has no idea when they will be.
Michelle explained: "I got on to the CAA who said they will send out claim forms but it could take months before I get my money back."
She continued: "I was able to contact the hotel that I had booked and explain the situation and they cancelled my booking. Luckily I have been able to book another holiday to Portugal this Thursday. I'm sorted now but it just seems wrong they were able to accept my booking one day before going
out of business."
Another Lisburn woman Laura Simpson, a teacher, was already in Turkey with Goldtrail and was near the end of her holiday when she heard the news.
Laura said: "The whole Goldtrail thing was not too bad for us as we had only booked flights. However, we didn't receive any information at all from the company and it was only thanks to friends and family that I was able to keep updated.
"I found out by text from a friend on Saturday morning and thought he was joking. I was able to get information online through phone calls home - as I had no access in the apartment - and rang the helpline. There were so many mixed messages going on in the resort - that we wouldn't be able to to get home.
"When we got to the airport on Monday we were told another company was manging the passengers and that Goldtrial hadn't passed on a passenger list. As we had our e tickets we were fine - but anyone who didn't was going to be removed from the queue and may have had to pay again for their flight home. So many more people were worse off."
Ulster Star
23/07/2010