Canadian's ten year search for his long lost relatives ends in success
Family connections traced to Ballinderry
by MARY MAGEE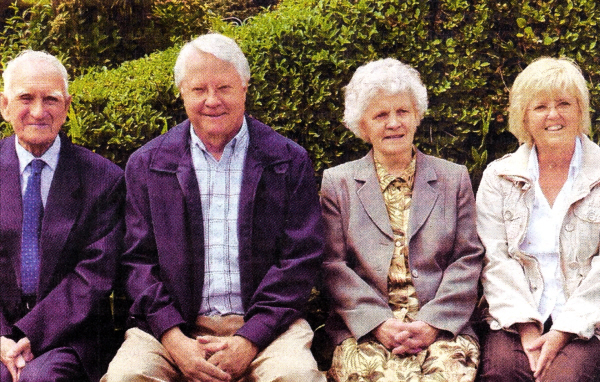 Albert Harris, Grant McClellan, Anne Harris (nee McLernon) and Denise McClellan.
A CANADIAN man's ten year search to find long lost cousins in Ballinderry has ended in success. Grant McClellan, who had been looking for relatives of his great grandfather George McClellan, has now met up with a distant cousin, Annie Harris (nee McLernon). Grant and his wife Denise met the family at Annie's home at Tansy Road during a two week visit to Ireland.
He had used search engines and hired people to carry out searches on his behalf to find the descendants of George McLernon, but to no avail. He eventually put an advertisement in a newspaper in Northern Ireland where he finally got response.
In the 1880s George McLernon - Grant's great grandfather - who was brought up in Lurganteneil in Ballinderry left for America at the age of just 14.
He joined the navy and told relatives that he had fought in the American Civil War, but the family have not been able to clarify this. At the time there were many Irish immigrants who joined the army for payment.
According to an obituary in the Lisburn Herald, George had been wounded in the Civil War.
He joined the marines, navy and army over a period of years, often joining and discharging himself.
He was apparently an eye witness to a famous action at Alabama.
He changed his name to George McClellan but is unclear why but it is believed that he admired a General McClellan. In any case, he went through the ranks of Corporal and Sergeant but in 1881 broke a thigh bone and was forced to retire.
He returned to Lisburn and married Margaret Allen at Dunmurry Presbyterian Church on October 3, 1884. He died in 1929 at Antrim Road. David McLernon, a relation and a family history enthusiast, said it had been a shock to meet up with Grant.
"Grant had been looking for his family and ancestors for a long time," he said. "He had been over in Lisburn and visited George's grave at the Old Blaris graveyard some years ago before he met us. but he never knew of us at that stage.
"He had people working on this and has been in every Internet search engine looking for information. My aunt saw the advertisement and they have been in contact ever since. Then before you knew it he was coming over to see us. "He was really nice and very passionate and enthusiastic about his quest. We were glad he made contact and was able to come over to see us."
The family have kept contact since Grant returned to Canada.
"If I find out anything new I let him know and visa versa," he said. "We still have some missing pieces which we would like to find out about. "He was he braver than I would have been. I like family history but I am not sure if I would have travelled across the world to meet people I did not know but I am glad that he did."
Ulster Star
19/11/2010