`Our remarkable neighbour'
Residents pay tribute to man who can't do enough to help
by STACEY HEANEY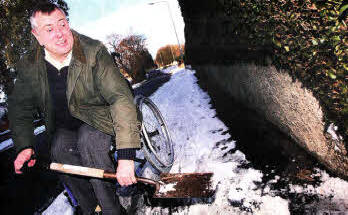 THEY say that everybody needs good neighbours, and the residents of the Moss Road in Lambeg have certainly found one in Greg Allman, who always goes out of his way to help those living near him.
Greg has been busy recently, helping his neighbours by putting grit on their driveways in the snowy and icy conditions. He also regularly collects their bins after they have been emptied, and he is willing to pick up any items they may need when he heads to the near-by shops.
As far as Greg's neighbour's are concerned, nothing is ever too much trouble, and they have to try to get there before him if they want to help him, rather than the other way around.
The marvelous thing about Greg, however, is that he does all of this whilst being permanently in a wheelchair.
Greg, who lives with his 85-yearold mother May, says that as much as he helps his neighbours, "they help me as well; they are all very good and helpful," he said.
To Greg's neighbour's however, they couldn't find anyone better to live close to.
One neighbour, 75-year-old Patrick Conlon said of Greg, "He's marvelous."
Patrick added: "Greg has a great sense of humour and is always in a cheery disposition. He goes around the neighbourhood twice a day and always has a good word for everybody. He's a charm to have as a neighbour. I will be moving house soon and one of my regrets is leaving Greg; he's my hero."
He continued: "Greg puts the bins back for everyone, even in the snow this week. He goes out shopping on the Moss Road everyday, he takes his dog for a walk twice a day, he visits the gym, during the summer he works in his garden and in the snow he put grit in the driveways; it has become like a competition, when I see him leave for the gym I run out to get the bins before he can.
"He's a lovely man," said Patrick. "I think he should get credit for it."
Responding to his neighbours kind words, Greg said: "I help my neighbours if I can, I have good neighbours here."
Despite the heavy snowfall, Greg has still been keen to help those who live near him by spreading grit on their driveways, even though he admitted that the snow makes it "a bit difficult to get round."
Greg became wheelchair-bound after a virus 23 years ago damaged his nervous system, however, he credits his neighbours and his family for helping him.
"They help me and I've got good family as well who ring and ask if I need anything.
"I am always out and about, so the number of people who know me is incredible. I spend each Thursday at the Rowan Centre in Lisburn and I go to the leisure centre four days a week. I like my garden as well when it's better days, and I like to walk my miniature Jack Russell, Jack. He comes to the shops with me as well, he sits up on my scooter; he's spoiled.
"I just try to help people if I can," Greg said.
* Do you have a remarkable neighbour who deserves to be recognised? Ring us on 92679111 or e-mail news@ulsterstar.co.uk
stacey.heaney@ulsterstar.co.uk
Ulster Star
10/12/2010