Guardian Angel watches over Lagan Valley Hospital
by JULIE-ANN SPENCE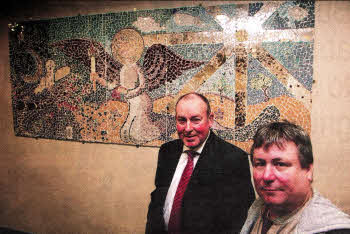 Doctor Brian Fleming of Lagan Valley Hospital with artist Colin McGookin at the unveiling of his mosaic mural 'Guardian Angel of The Broken Heart' at Lagan Valley Hospital's Department of Elderly Medicine. US4910.115A0
A NEW mural representing loved ones being protected by a guardian angel has been unveiled at Lagan Valley Hospital.
The mural is installed in the entrance foyer of the Department of Elderly Medicine and is the culmination of a series of increasingly ambitious artworks created by both day patient and acute inpatient service users and staff of the Department of Psychiatry at the hospital.
The large mosaic mural, entitled 'Guardian Angel of the Broken Heart', was created over the last few months during workshops facilitated by Arts Care Artist in Residence for the South Eastern Health and Social Care Trust, Colin McGookin.
It was funded by Arts Care, Northern Ireland's Arts and Health Charity, worked in partnership with the South Eastern Health and Social Care Trust, but the imagery and title of the mosaic was developed during workshop sessions in occupational therapy, where service users, staff and Colin McGookin discussed mental health issues, including recovery from depression and bereavement.
As part of their research the group studied Byzantine mosaic and its influence is noticeable in the style they have chosen for their mural.
Mr. McGookin said: "While making this piece, a discussion arose on how the process of creating a mosaic by selecting broken pieces of ceramic and glass and jigsawing them together could be likened to the complexity of repairing a broken heart.
"In our composition we have added characters and these characters represent loved ones who are being protected by the 'Guardian Angel of the Broken Heart' who heals and lights our way by day and night."
Joan Dempster, Community Arts Officer from the Arts Council of Northern Ireland, part funders of the project, added: "The Arts Council is delighted to support this new mural, which is the result of a series of very successful arts workshops with service users and staff at the hospital. The budding artists have worked very hard with Arts Care Artist in-Residence, Colin McGookin, to complete this beautiful mural which has created an impressive foyer in the hospital."
julieann.spence@ulsterstarco.uk
Ulster Star
17/12/2010