Simon and Matthew set to make 'Headway' on the Ulster Way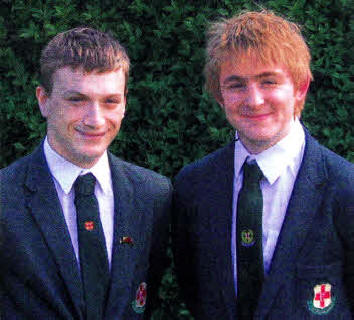 Matthew Hoper and Simon Harris who plan to walk the entire Ulster Way this summer to raise money for charity — Headway.
TWO Friends' pupils will begin a 625 mile walk on Monday for the brain injury charity 'Headway', in memory of the mum of one of them who passed away due to a brain tumour in 2005.
Simon Harris and Matthew Hoper intend to walk around the entire length of the Ulster Way, a 625 mile circular path which passes through some of Ulster's most iconic scenery. The journey will take the two 17year-olds' who will both celebrate their 18th on the walk, through a range of Northern Ireland's most famous areas including the Mourne Mountains, the Sperrins and along the North coast.
The boys will be carrying everything needed for the journey and so will be heavy laden with a cooking stove and a tent, not to mention the abundance of food needed to support two growing teenagers.
The walk will be a test of fitness and endurance as well as a mental struggle, with the pair intending to complete their walk within six weeks.
It was Simon who came up with the idea for the journey. Having walked a stretch of the Ulster Way in the Mournes, he became intrigued as to where it went. This sparked an interest in the route and ultimately gave rise to the two boys summer plans.
The boys initially decided on the walk' and then thought it would offer a great opportunity to raise some money for a worthwhile cause. The boys didn't have to think for long to find what charity would suit.
Having lost his mum to a brain tumour in 2005, Simon was keen to help the brain injury charity Headway. "They do so many worthwhile things and are always in need of funds'" he said. Matthew agreed that this would be a great reason to complete their venture.
After careful planning and much consultation of Alan Warner's definitive guide book 'Walking the Ulster Way, the boys now are ready to set off on their journey from Friends' on Monday morning.
The boys have raised approximately £2,000 to date and would greatly welcome further donations. To donate telephone 38851302 or alternatively visit www.justgiving.com/ulsterwaywalk. For any more information on the work of Headway visit www.headway.org.uk.
Ulster Star
25/06/2010