Friends and family help to boost David's Help For Heroes
fundraising drive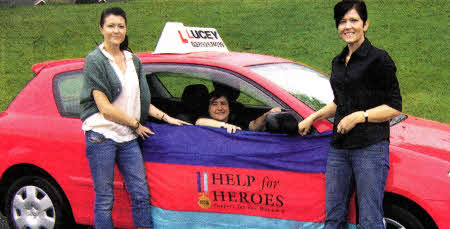 Pauline Lucey driving school (in car) who very kindly donated 10 driving lessons, with Alison Holdsworth (left) and David's sister-in-law Sharon Webb (right).
FRIENDS and family of Lisburn man David Holdsworth, who will be running in the Amazon next month to raise money for Help For Heroes, have been helping to boost his fundraising drive.
David (34), who is in the Territorial Army and recently returned from his second tour of duty in Afghanistan, will be racing in the 200km jungle marathon in October and his family in Lisburn have been keen to show their support and help him to raise as much money as possible.
David's wife Alison, his daughters Lauren (14), Carris (13) and son Bailey (5), as well as his mother Ann, sister-in-law Sharon Webb and all his friends have been working hard at home while David is training in Cyprus. They have been knocking on doors, asking generous local people for donations and have organised a host of fundraising events.
Local flute bands Ballymacash Young Conquerors and Pride of Prince William recently held a football tournament in support of David.
His friends and family have also organised a fundraising night at the Royal Brttish Legion on Friday, October 1.
| | |
| --- | --- |
| | |
| Bailey Holdsworth (David's son aged 5) who has been collecting sponsors from local residents in support of his dad. | David's sister in-law Sharon Webb (left) collecting' donations from local woman Lisa Grant. |
The event will include music and a disco by DJ Donna.
There will also be an auction and a host of prizes to be won.
Local businesses have kindly donated items for ballot prizes and the Pauline Lucey Driving School has donated ten driving lessons which will be auctioned off on the night.
"David's training is going really well, he is feeling fitter than he ever has and is looking forward to completing the race on October 7," said David's wife Alison.
"David is overwhelmed by all the support, hardwork and generosity from his family, friends and local people back home, and is looking forward to thanking them personally when he returns.'
Tickets for the fundraising evening are priced at £5 and are available from the Royal British Legion in Sackville Street.
Anyone who would like to donate money can do so by logging onto www.justgiving.com/davesjunglerun.
Ulster Star
17/09/2010