Records broken at recent Highland Games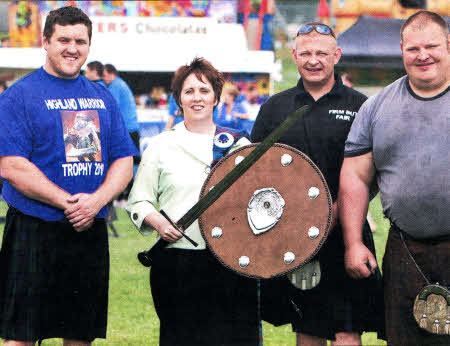 Councillor Jenny Palmer, Chairman of the Councils Economic Development Committee at the opening of the Highland Games along with Glen Ross co-organiser of the Games and Jonathan Kelly, current Highland Games Champion.
SATURDAY June 26 saw Lisburn's first ever Highland Games in the grounds of Lagan Valley LeisurePlex playing fields.
The event organised by Lisburn City Council and Glen Ross, former UK Strongest Man was also part funded by the Ulster Scots Agency.
Over 3000 visitors enjoyed watching some of Ireland's strongest men compete in a range of traditional Highland events including Stone Putt, Weight for Distance, Weight for Height' Hamme, Sheaf for Height, Caber Toss and Pole Push Wrestling. The days activities also included Willie Drennan and his Ulster Scots Folk Band, Stone Wall Band, Lambeg Drummer, Exhibitions, Food Stands, Beer Tent, Sled Dog Show and Childrens Fun Zone.
Speaking after the event, Glen Ross said: "This has been one of the best ever Highland Games events in the province. Its success is not only due to the blessed weather we had or the large range of activities, music and cultured events that were on display but the competitors that were on show were of the highest standard. This year we had a range of competitors that were truly from all 4 corners of Ireland."
The Highland Warrior Series One results went to Jonathon Kelly, Co. Antrim with 66.5pts. The winner of the Novice Highland Games with 62.5 pts was Ray O'Dwyer' second with Barry Delaney with 58.5 pts and third was Pete McCallan with 51 pts.
Councillor Jenny Palmer' Chairman of the Councils Economic Development Committee said: "Lisburn City Council is delighted with the success of this years' Highland Games. This is the first event of its kind to be hosted by the Council and the people of Lisburn certainly enjoyed the amazing feats of strength and power on display, as well as the music, cultured events and children's entertainment throughout the day. This fantastic free event offered a wide range of activities for all different age groups right in the heart of Lisburn City Centre."
Ulster Star
02/07/2010