Andrea and Taryn on top of the world in Himalayan challenge
by STACEY HEANEY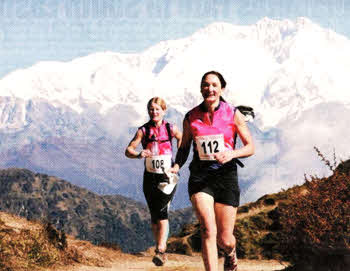 AFTER climbing the highest peaks in Northern Ireland and England and then taking part in a gruelling continuous four day race, you would think that local adventure racers Andrea Harrower and Taryn McCoy would be putting their feet up for a while. Instead however, they travelled to the Himalayas recently to take part on the Himalayan 100 Mile Run Stage Race.
Dromara woman Andrea, and Taryn, who are both members of Bikedock Belles, a four-woman cycling and multi-sport team, took part in the event from October 23-30, which saw them cover an average marathon daily for five consecutive days through the mountainous region . an event Andrea admits is the most gruelling they have undertaken.
She explained: "We basically covered an average marathon daily for five consecutive days on steep inclines and gradients - with a few treacherous downhill's for good measure; it is by far the hardest thing we have ever done."
The event, which has been described as "the most spectacular running course in the world," by a former winner, takes in views of Mount Everest, Lhotse, Makalu, and Kanchenjunga, with four out of five of the world's highest peaks being visible.
"The first two days we were running at an altitude of 12,000ft in the foothills of Everest," Andrea added.
The local woman soon found altitude sickness taking its toll on her, and she had to complete the third and fourth day of the challenge whilst she was ill.
"Wednesday in particular was the worst day, physically, of my life," she said. "But there's a certain something you have for all these challenges, the ability to keep moving forward even when you shouldn't be."
Despite their difficulties, Andrea and Taryn both finished the challenge and ranked highly among a field of elite mountain runners from across the world, with Taryn finishing as the fifth female and 11th overall in a time of 20hrs 54min, whilst Andrea was the ninth female and 20th overall in a time of 23hrs 34min.
As well as taking on the challenge, the local women did what they usually do whilst competing in gruelling tasks - have fun and make new friends along the way.
Andrea and Taryn were impressed with the high level of female participation in the event, with women travelling from the USA and Spain to compete.
Andrea commented: "Female participation was surprisingly high - and the Bikedock Belles kit got the usual attention. Girls from the US and Spain say they are going to take a leaf out of our nook and promote sport to women in their own countries." The ladies also joined forces during the challenge and are considering holding a female only race in Spain next summer.
stacey.heaney@ulsterstar.co.uk
Ulster Star
12/11/2010