Hollyoaks stars tell students how they got their big break
by MEGAN BOWERS, CHLOE MEGRATH and GILES CAREY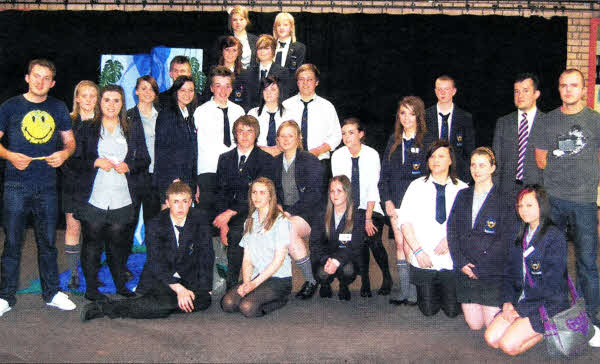 Former Hollyoaks actors Matt Littler and Darren Jeffries recently paid a visit to Laurelhill Community College. Also pictured is Chairman of Lisburn City Council's Leisure Services Committee CIIr David Archer.
FORMER Hollyoaks star Matt Littler and Darren Jeffries paid a visit to Lisburn recently.
Matt and Darren, who played Max and OB in the hit Channel 4 show, were in Lisburn for the Cinemagic Festival and stopped off at Laurelhill Community College to take part in a drama workshop.
During their visit to the school, the pair were grilled by three Year 11 GCSE journalism pupils' Chloe Megrath' Megan Bowers and Giles Carey, who found out all about the show' as well as life after Hollyoaks.
"I was quite lucky because I kind of grew up with my character so obviously I started when I was 15 and my character was 15'" explained Darren, "So when I was 16' 17' 18' 19, I was kind of growing up along side my character so that was quite helpful when it came to experience. My character wasn't all that different at the beginning as he was just a young lad.
"He was a lot more badly behaved than I was. I was a very, very well behaved child like really ridiculously well behaved - I'm only joking - but he was bit stupider than I am, a little bit more naive than I am as well but I enjoyed that. That's why you get into acting, to play somebody who is a little bit different so it was great fun."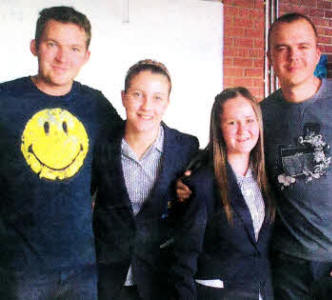 Darren also admitted to the budding journalists that he had been very fortunate in his career so far. "I was quite lucky I was really into acting' really enjoyed doing it and I went on a drama course which was two weeks and at the end we did a play. An agent came to see the play and they signed me up off the back of it. I think it was literally six months later I got the audition for 'Hollyoaks''" he explained.
"I auditioned and got the part so I was very lucky in that sense. I didn't really go to drama school or anything like that, which a lot of young actors do and don't end up working so I felt really privileged.'
Since leaving Hollyoaks Matt and Darren have been familiar faces on the small screen and have been trying their hand at presenting as well.
The pair explained they have been presenting the Verse Chart for 4music. "We really enjoy it," said Darren.
"When we both left Hollyoaks we didn't really have it in our minds to pursue the presenting side of things but we got a lot of offers and we took them for the experience and the Verses Chart as we do now for 4music we really enjoy because we have worked together for so long anyway and it's always nice to work with someone you trust. We do feel we work well as a team, so the Verses Chart is good fun because we have a really great crew and it's just really good laugh.
"Personally I am really enjoying the presenting, so that's something I want to stick to for the time
being'" he continued.
"We have got a lot of shows on the horizon that we are getting involved in and its great fun. The reason I left Hollyoaks is so I could do something completely different.
"Presenting takes us all over the country and we get to meet all sorts of different people. At the minute I am loving the variety that the work involves and it is definitely something I want to stick with."
Matt also said he is enjoying the variety of presenting, particularly episodes of 'Red Bull Rivals'. "We did four or five different episodes," explained Matt.
"One was free running in Sweden, endurance Motorcross in Romania' another was cliff diving in Greece and one was the Mountain Biking in Cape Town. We love doing that, that was our favourite job ever, to go do all those crazy sports and get paid for it, travel all over the world, get a suntan. That was the most fun job we could possibly imagine."
Ulster Star
02/07/2010