`You are not alone in this'
Horizons suicide support group launches in November
by JENNY MONROE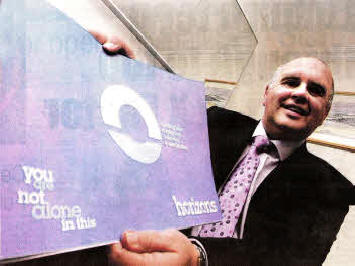 Rev Brian Anderson. US4410-114A0
THE official launch of a local suicide support group will take place later this month following a Lisburn minister's appeal for more to be done to prevent young people taking their own life.
Earlier this year the Star reported that a Suicide Awareness Support Group had been established by Rev. Brian Anderson, the minister of Seymour Street Methodist Church. Now after several months of careful planning, 'Horizons' has been formed.
Mr Anderson explained: "We got people together for a second public meeting. That meeting in May was well supported and from that a group was formed. I was elected chair, Grace Davin as Secretary, Dora Beacom as Treasurer and other committee members included, Paul Smyth, Ian McAllister, Karen Moulds, Paul Wolfe, Trevor Gill.
A Constitution was agreed that night.
"We were very grateful to receive the brilliant assistance of Kevin Bailey, Suicide Prevention Co-ordinator for the South Eastern Trust."
He continued: "We, after a long process, came up with the title 'Horizons' with You are not alone in this' as the strap line. We engaged in a process of working out our objectives and through the skilful guidance of Trevor Gill of Gill Associates, a Business plan with Aims and Objectives was constructed.
"We have also secured the web address www.horizonslisburn.org and are designing a information leaflet and business cards presently." Speaking about the work Horizon will do Mr Anderson said: "We aim to work with others to provide practical, empathic support for those touched by suicide.
"We exist to inform and encourage those affected by the death of a loved one with informal mutual support. This is expressed by a fortnightly drop-in at the Bridge Community Centre were people are invited to come and chat over a cup of coffee. We plan a Tree Lighting event nearer Christmas where a loved one can be remembered by a light on the tree. These are initial efforts and more will
follow."
On Monday November 8 an information evening will be held at Trinity Methodist Community Venue at 8pm and all are welcome. On Saturday November 20 Horizon will be officially launched. At 6pm on the evening at Castle Gardens there will be music, lighting of lanterns to remember loved ones and a short speech by the Chair followed by a candlelit procession from Castle Gardens to the Island Centre where light refreshments will be served. At 7pm the group will be officially launched with the help of Lynda Bryans. If you want to be part of this, you can phone Rev Anderson on 92662303/ 07736715602. Email: anderson662@btinernet.com or write to him at 35 Mount Royal, Lisburn, BT27 5BF.
Ulster Star
05/11/2010