Housing boost for Lisburn as scheme gets go-ahead
Ballymacash social housing development gets green light
by STACEY HEANEY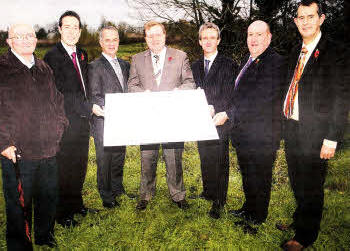 Jimmy Millar Lisburn North Community Association, MLA Paul Givan, Alex Atwood Minister for Social Development, John Garland Ulidia Housing Association, Councilor William Leathern and Minister For the Environment Edwin Poots study the plans. US441O-115A0
THE go-ahead has fanally been given for a new scheme which will see almost J50 new social homes built at Ballymacash.
Social Development Minister Alex Attwood announced this week work on the homes at Ballymacoss Hill will start within this fanancial year. Just last week Lisburn Council had expressed their concern that funding for the development could disappear if work did not begin soon on the £18 million development, which will help alleviate what they called the "chronic waiting list" for social housing.
The development will be the largest social housing scheme to start in Northern Ireland this fanancial year, providing 124 family houses and 22 apartments.
In what will bring a £12 million boost to the construction industry, the homes will be built on land previously owned by Lisburn City Council and the Housing Executive, and construction work is scheduled to commence in March.
Mr Attwood said: "This is a major investment for the people of Lisburn. Unfortunately, future budgets are under pressure but I have been abIe to secure suffacient funding to allow this scheme to proceed. This level of new housing, altogether on one site, will make significant inroads into local waiting lists.
"Lisburn will shortly see 146 new houses going on site which will be an immediate major boost to the local construction industry and associated supply chain. That has to be good news for all concerned in these difficult times."
Lagan Valley MLA Paul Givan, who was due to debate the issue in Stormont next week, welcomed the announcement. He said: "The total investment will come to over £J8m with the construction industry benefiting from £J2m of contracts and Lisburn Council will receive £2.5m which will help meet the costs of major capital schemes such as Wallace Park without having to take out loans to fanance these schemes.
"I am delighted that this deal has now been done and local people in urgent need of a home in housing stress will benefat from this scheme once it is completed."
Chairman of the Council's Corporate Services Committee, Councillor William Leathem added: "This news has been a long time coming and I am delighted by this week's announcement. The need for additional social housing in Lisburn is highest in the Ballymacoss area."
The Mayor and Chairman of the Housing Liaison Committee, Alderman Paul Porter, said: "At a time when the construction industry is experiencing unprecedented diffaculties the buiIding of J46 new homes is a massive injection into our local economy- Not only will the Ballymacoss scheme provide many families with modern, well designed accommodation in a popular area it will also provide local businesses with new opportunities and customers." Alderman Ivan Davis, a long time housing campaigner, also welcomed the news. He said: "With future budgets under pressure I'm delighted that this scheme wilI proceed. At the end of March this year there were in Lisburn District almost 2000 people on the waiting list- The Minister's announcement is also a boost for the construction industry."
He continued: "However a serious concern was the current overall rent arrears in both Lisburn districts of £572,000 and while this had been decreased compared to previous years, the future did not give much hope pending the trend of the present economic situation, bearing in mind £4J4,000 was owed by past tenants."
stacey.heaney@ulsterstar.co.uk
Ulster Star
05/11/2010