Local Angler's raise funds for Marie Curie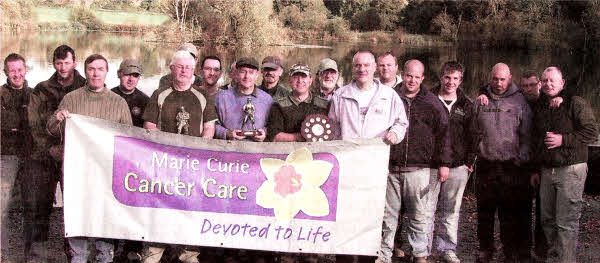 Competitors who took part in the NACCO Hugh Brunty Memorial Competition in aid of Cancer at lslanddeny Fishery.
LAST Saturday saw a good turnout for the Hugh Brunty Memorial Competition in aid of Marie Curie Cancer Care, which was organised by the members of the NACCO club at Islandderry Fishery, Dromore.
Competitors had a good day with a lot of them getting their full brace of trout. Paddy Brunty, Belfast kept the trophy in the family by taking 1st place using lures.
The lakes are both fishing well with John Dickson, Maralin releasing a total of 14 trout on black buzzers while Stuart McMurran, Dromore released 9 trout using nymphs. James McKee, Portadown, was fishing the main lake and released 15 trout with his best weighing in at 10ln2, all caught on his own nymph pattern.
Paul Sinnamon released 18 trout on the Hollow Springs lake with his best tipping the scales at 7lb10, all caught using yellow dancers.
The next competition is the start of the winter league on Saturday October 30 with a overall prize fund of £800 with a first prize of £400 cash. The competition will run until March with anglers attending one competition per month.
For more information or to book contact the fishery on 07859074424 or visit www.islandderryfisheryandtackle.co.uk for more information.
Ulster Star
22/10/2010