Jackie on a Harley —thanks to former Lisburn man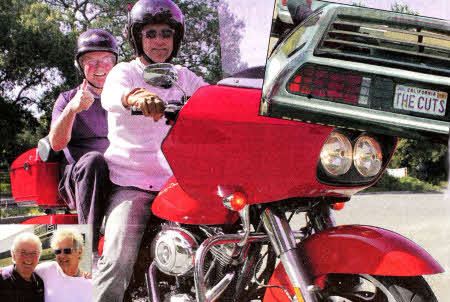 Jackie and Frank on the Hartey Davidson and inset Frank's DeLorean — with a familiar number plate.
JACKIE Fullerton has had his first ride on a Harley Davidson - thanks to a former Lisburn man living in Los Angeles.
Jackie met up with Frank O'Dwyer for the BBC series Jackie's The Boy, and you can watch his bike trip at 10.35 pm next Monday on BBC 1 NI.
"Frank is a genuine character", said Jackie. "I nicknamed him Rod Stewart as soon as we met. But I doubt if even Rod is as popular with the ladies as Frank!"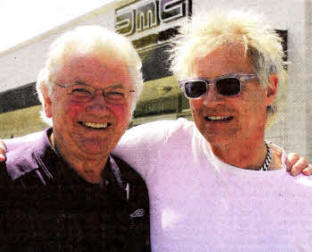 Frank is originally from Harmony Hill and his sister, Stella, still lives in the area.
He left Northern Ireland when he was 19, and eventually settled in Huntington Beach.
An engineer with Boeing, he not only has the brand new Harley Davidson, but a legendary DeLorean which was built at Dunmurry, a 1955 Porsche, and a collection of Indian motorcycles.
"The bike trip was a real treat, and far more enjoyable than I anticipated", said Jackie. "Frank took me round some of the finest motorcycling backroads in California. The closest I normally get to a bike is commentating on the Northwest 200!"
Monday evening's programme also features former world champion boxer Wayne McCullough, dancing star Michael Flatley, and Thin Lizzy frontman Ricky Warwick. The producer/director is former Ulster Star deputy editor, Michael Beattie.
Ulster Star
27/08/2010