Blind couple get their dream garden thanks to Eugene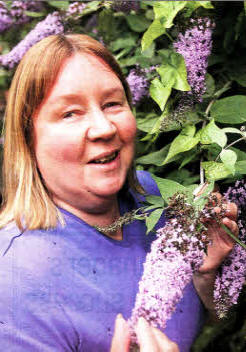 lane Sloane, who is to feature in a UTV garden makeover series called Glorious Gardens, tends some of her favourite plants. US291O-522cd
A BLIND couple from from the Magheralave Road have got the dream garden they had always wished for thanks to the expertise of celebrity landscaper Eugene Higgins.
The transformation of Jane and Chris Sloane's garden from overgrown large swampy lawn into a sanctuary of calm with water features, granite table and chairs and an array of scented plants will feature on the UTV series Glorious Gardens later this month.
A delighted Jane said that she can now sit in her garden - something that she has never done since she moved there ten years ago. "It is just marvellous, we are so pleased with it," she said. "It does need a lot of looking after though."
She put her name down for the show last year seeking help to transform her overgrown garden.
Eugene came out with the film crew last October and his enthusiasm and energy overwhelmed her.
"He is so energetic and full of really great ideas and knew exactly what he wanted'" she said. "The only thing I really wanted was a table and chairs that did not wobble and we chose plants at a nursery.
"It was a good experience and a full film crew in the garden did not bother me."
The complete makeover was a real challenge for Eugene and his team. Not only had to finish within a short timescale but had to suit the couple's needs.
"This was the first time I had ever done a garden for a blind couple so that was a challenge in itself'" said Eugene.
"We had just a few days to do the makeover and we had to contend with the rain as well. We go no help from other volunteers.
"We worked with what Jane wanted. As well as a lovely water feature we placed a steady granite table which was what she wanted. We chose scented plants like fir, rosemary, sage and thyme."
The couple were thrilled at the end result.
"Jane said that since they moved into their house almost 15 years ago she had never sat in the garden'" Eugene said. "Now she can enjoy the outdoor space."
The show was filmed late last summer and the film crew revisited later to see how the changes had bedded down.
Glorious Gardens is produced by Green Inc for UTV and is sponsored by Wilson's Country Potatoes.
The fifth programme of the series will see the Lisburn couple marvel at their new outdoor living space on Monday August 23 at 8pm.
Ulster Star
06/08/2010