Doctor's work to benefit terminally ill children
by STACEY HEANEY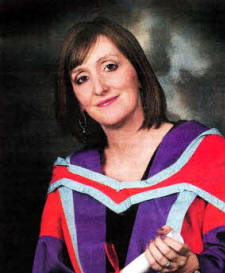 THERE were celebrations for a local nurse last week when she graduated from Queen's University, Belfast as a Doctor of Philosophy.
As well as being a personal achievement, Lisburn woman Jayne Price's work will also benefit terminally ill children and their families as they receive treatment in the future.
Children's Nurse Jayne's doctoral study examined parent and professional experiences of caring for a dying child and was funded internally by the School of Nursing's Sandra Ryan Fellowship Scheme.
The former Wallace High School student, who lives at the Maze, has spent much of her career improving care for children with cancer and their families, through clinical practice, education and most recently research.
Jayne, who works as a Senior Teaching Fellow in the School of Nursing and Midwifery at Queen's, a post she has held for the last ten years, completed her general nurse training at the Royal Victoria Hospital, Belfast, before undertaking a course in children's nursing at St James' University Hospital,
Leeds. She further completed her BSc in Nursing Sciences at Leeds Metropolitan University and her Masters in Advanced Nursing from University of Ulster.
Jayne, who is married to Mark Cherry, said: "I was so privileged to talk with bereaved parents and to hear of their experiences living through the painful loss of a child during the course of my research.
"They were so open and honest and from them and their very special children so much has been learnt. Dissemination of the findings from this study will continue to help health care professionals as they provide care for children and families in the future."
stacey.heaney@ulsterstar.co.uk
Ulster Star
17/12/2010