Jill to speak at groundbreaking conference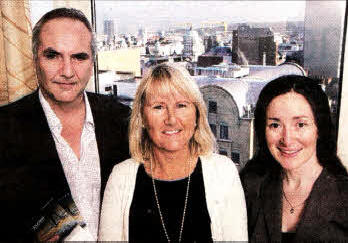 At the launch of the 'Trauma & Spirituality' Conference are (l-r): Peter McBride, Niamh Group Chief Executive; Jill Hendron from Ballinderry and Colleen Brown, Journey Towards Healing Programme Co-ordinator.
A LOCAL woman is to speak at a groundbreaking International Conference in Belfast next year on her research into the how dealing with people suffering from trauma can affect the clergy.
Jill Hendron, from Ballinderry, is currently undertaking a full time PhD at The University of Ulster on the experience of secondary trauma amongst Irish clergy and will present her work 'Trauma and Spirituality' conference.
Jill, who also carries out part time teaching on the undergraduate counselling course, will join a host of distinguished speakers and presenters from across the globe at the conference, which will encourage discussion on the roles that both health sectors and faith communities can play in trauma recovery.
"I am honoured to have been asked to present at this pioneering conference" she said. "I will be presenting findings from my current PhD study which looks at how the clergy are affected by the trauma of others through their work. People often turn to their church when they are experiencing a traumatic time in their life. In these situations, clergy can also experience the emotional weight of the problems on which they are counselling a member of their congregation. This experience is known as secondary trauma."
"Through my experience working in grief counselling with both adults and children, I became interested in the impact of working with trauma. I hope this conference will help raise awareness of the issue in order to ensure that clergy get the training, preparation and support they need in this difficult aspect of their role."
The conference; 'Trauma and Spirituality: An International Dialogue', is organised by Journey Towards Healing through the Northern Ireland Association for Mental Health (Niamh). It will take place in Belfast from March 9-13 2011. Speaking at the launch, Peter McBride, Niamh Chief Executive said: "We are very lucky to have such an outstanding line up of speakers confirmed for the conference. The line up includes speakers from across the globe as well local experts such as Jill Hendron."
For further information visit www.journeytowardshealing.org/conference.html.
Ulster Star
03/12/2010