Family fundraiser in memory of Jill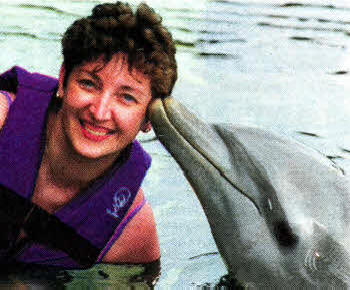 THE family of a Lisburn woman who passed away in March after a courageous battle with breast cancer are holding a charity event to celebrate her life.
Jill Lewis died aged just 45 leaving behind her husband of 23 years Gary and her sisters Linda, Diane and Elaine.
Her family have organised a charity bazaar at Trinity Methodist Church and Community Venue on Saturday July 3 from 10am - 2pm in celebration of Jill's life and to raise money for other cancer sufferers. All the proceeds will be going to the Jill Lewis Charity Fund in association with the Pretty'n'Pink breast cancer charity founded by Noleen Adair.
In 2005 Jill was diagnosed with the most aggressive form of breast cancer and had a mastectomy followed by a gruelling regime of chemotherapy and radiotherapy. During this time Jill was made redundant from her job of 17 years but faced the news with her usual optimism and soon found
another job. She told her new employers about her condition and tried to lead as normal a life as possible, even receiving drugs at work so that she didn't inconvenience her employer by taking sick leave.
After a long and painful battle Jill was told that she was in remission and devoted herself to local fundraising events. However in 2009 she developed back pain and even though test results came back clear, within months an MRI scan revealed Jill had secondary cancer in her liver, spine, bones, sternum and lungs. But Jill's unwavering optimism and determination once again shone through and she planned a celebration for her 45th birthday.
Diane McOwing, Jill's sister commented: "When we read the cancer leaflets all the signs were there - all of Jill's symptoms pointed to only one thing and yet we were all blind to it."
She continued: "Jill always put other people first and never ever complained but was always
grateful for anything you did for her. Jill made it to her 45th birthday but a month later on March 13 this year she slipped away. Jill was not afraid of dying, she just didn't want to die as she had so much to live for and so much still to do with her life.
"She never got angry and didn't ask why me? Instead she accepted what was happening and asked why not me - am I so special that it shouldn't be me? A truly amazing, courageous and inspirational individual, always a smile never a frown who loved life and gave so much of herself to everyone with whom she came into contact. This is Jill's legacy - a life of love and generosity - of warmth and genuine concer for others."
Jill's family extend a warm welcome to anyone who would like to support their fundraiser and would particularly like to invite anybody who Jill met when she was in hospital.
Ulster Star
18/06/2010