Joanne to 'rejoin' the workforce in dream job
by MARY MAGEE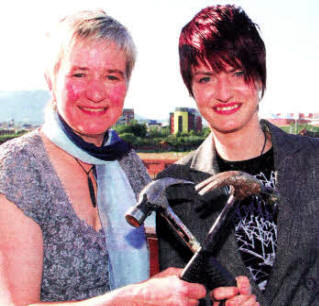 Joanne Johnson from Lisburn is finally getting the chance to fulfil her ambition of being a joiner. After training with Women's Tec, the 27-year-old will be starting her apprenticeship with Banbridge furniture maker Louise Anson
A L1SBURN woman who finally fulfilled her dream to become a joiner has been honoured as one of this year's top students at Women's Tec in north Belfast.
Joanne Johnson (27) was told she was too old to take on an apprenticeship after writing to a variety of companies asking for them to take her on.
But she was so determined to follow in her father's footsteps and become a joiner she joined Womens Tec.
"After I left school I worked in the hospitality industry - I've done bartending, waitressing and worked as a chef," said Joanne. "I liked to travel and this really suited my lifestyle but I always wanted to work with my hands and to do joinery. "I made the decision to leave my job and to deal with not havi2ng money coming in for a little while. I sent out 60
letters looking for an apprenticeship but got only one interview out of it. They told me that at 27 I was too old -that apprenticeships were for 16 or 17 year olds."
She joined Women's Tec last year and attended joinery and plumbing courses. She is now finalising an apprenticeship with Women's Tec joiner Louise Anson, a furniture maker.
"I feel really privileged to have been given this chance and I want to pay that back," said Joanne. "For me this is a chance to give something back to my community.
Exciting
"This is just so exciting and a bit overwhelming. I know exactly where I want to be and I am doing it. It's just hard to believe sometimes."
Joanne and 150 other women were presented with certificates at a ceremony in Belfast recently for the courses that they have completed this year.
For more information on Women's Tec go to www.womenstec.com or ring 9074 9810
Ulster Star
18/06/2010