John takes to the water to help two hospitals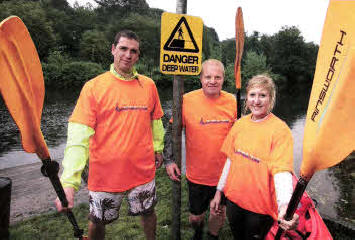 A team of senior Sainsbury's colleagues including Sprucefield store manager Richard Heaton, night shift manager John Clarke - and Richard Heaton's daughter Laura are taking to the water for charity-
NIGHT shift manager at Sainsburys in Sprucefield has taken to the water this week to help raise money for two hospitals.
John Clarke, whose 14-month-old son Daniel died last year after contracting septicaemia which affected his lungs and heart, is raising money for Royal Hospital for Sick Children and Children's Heart Unit Fund, at Freeman Hospital in Newcastle, a specialised hospital which is one of four in the United Kingdom that offers ECMO Extra Corporal Membrane Oxygenation.
Daniel sadly passed away on March 1, 2009 in Freeman Hospital after eight weeks of treatment. He was waiting For a transplant and underwent a highly specialised treatment known as ECMO, Extra Corporal Membrane Oxygenation, a system that acts as an artificial lung providing oxygen support for babies and young children with severe respiratory failure until their own lungs recover.
Daniel, who was born three weeks premature, had been a fit, active and healthy young boy who was thriving and doing well. However when he was little over a year old he began to feel unwell. At first John and his partner Davina Huey believed he had meningitis.
When he was taken to the the Royal Hospital for Sick Children it was discoverd his lungs were no longer functioning properly.
He was taken to Freeman in Newcastle where doctors spent eight weeks battling to save the baby.
"It was a terrible time for us," said John. "We were in Newcastle away from home and and had to live there for eight weeks. There are no words to describe it, it was just simply awful for us. Doctors could not explain how Daniel picked this up nor could they explain what had happend."
Since the tragedy John had always wanted to do something to help fundraise for the two hospitals that helped his young son.
John along with his colleagues from work will be joining him to kayak 100 miles over four days from September 23. The team consists of store manager Richard Heaton along with his daughter Laura.
The team will undertake a gruelling 100 mile kayak over four days from Blackwatertown across Lough Neagh to Castlerock on the north coast. The team will be camping at night and will be raising funds and awareness for their store charities.
Richard Heaton, store manager at Sainsbury's Sprucefield explains: "Each year a team of us get together to see what major fundraising activity we can undertake together to raise funds for our local nominated charities. This year we wanted to do something different which has a similar impact. The Kayak challenge is particularly gruelling as we will be camping out at night and we have been training for weeks to get to grips with endurance kayaking.".
The Sainsbury's team started on Thursday supported by local colleagues and Mobile Team Adventure staff throughout the four days. They hope to arrive at Coney Island in Craigavon by the end of the day. Today (Friday) they will be arriving at Ballyronan Marina/Lough Beg near Cookstown travelling up to Portneal Lodge/Drunagelis near Kilrea on Saturday. The team hope to arrive in Coleraine Marina to complete their challenge on Sunday.
Ulster Star
24/09/2010