Condition that's robbing thousands of their future
LISBURN WOMAN'S CALL FOR MORE RECOGNITION OF PARKINSON'S DISEASE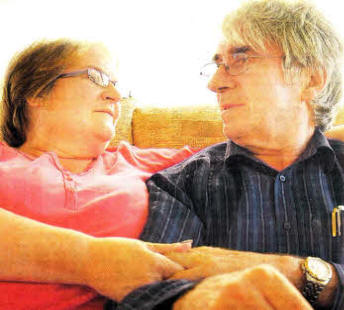 Valerie and John Crawford from Legacurry. Valerie cares for John who has Parkinson's. US2710-351DW Photo: Donnie Wright
JOHN Crawford was looking forward to his retirement, planning to take off on a six-month journey in his boat and spend more time with his wife and teenage sons.
But the 66-year-old civil engineer from Legacurry was robbed of that after a horrific fall brought on Parkinson's Disease, an incurable condition. Now in the advanced stages of the condition he needs help to get dressed, washed and the once grade 8 pianist can no longer play and now needs a voice activated computer to run his own utility design company.
John' from Gardners Road' is one of 4000 sufferers in Northern Ireland. It is a condition well associated with Pope John Paul H' Mohammed Ali and Michael J Fox' but despite this Parkinson's is still not that widely recognised.
Parkinson's is a degenerative disease of the nervous system associated with trembling of the arms and legs' stiffness and rigidity of the muscles and slowness of movement. It is caused by the progressive loss of cells in the brain which produce the chemical dopamine.
There are currently 4000 sufferers in Northern Ireland, no specialist and at present only three Parkinsons support nurses in the province. There are currently 70 members of the Lisburn branch of Parkinson's UK.
John's wife Valerie has cared lovingly for her husband for 13 years.
Her mild-mannered, easy-going, intelligent husband started showing symptoms of Parkinsons Disease two months after an horrific fall at his home.
In September 1997 he returned home from a boat trip. He climbed up the ladder of the boat, which was in his yard, to retrieve presents for his sons, then aged three and six. However, when John reached the top the ladder gave way and he fell straight back on his head onto the ground.
It was two months before he showed signs that things were not right. He became unwell, his mood started to change, and he developed quivering of the hands. He was taken to the Josh Cardwell clinic and there he was diagnosed with Parkinson's, a condition that was to change his life and that of his families forever.
Valerie has seen at first-hand just how the condition has robbed her husband of a good quality of life. A master civil engineer with a mathematical brain' has become almost unrecognisable to her.
Valerie had to put her life on hold became the head of the household and took on all the responsibilities of being John's sole carer.
"I help him do everything'" she said. "I help him to dress, wash, brush his teeth and do even the simplest of tasks. He has difficulty in co-ordination If he was to walk across the street and someone was to walk in front of him or if the tiles are different it would affect his whole balance.
"He is highly respected, intelligent man but the unfortunate thing is that he is frustrated because his body wants to do something but his brain will not let him. Out of 24 hours he would have just two hours in the day which are good. He is such a lovely, charming man with such a mathematical brain."
Valerie is a member of the sub-committee of the Lisburn branch that attempts to promote the charity and raise money. She feels Parkinson's does not get the same recognition as other conditions.
"I ran a survey myself and asked 25 people to name three charities'" she said. "Of those most were cancer charities but Parkinson's UK was not even in the top ten yet there are 4000 sufferers in Northern Ireland.
"I would like to see Parkinsons UK become more widely recognised and make people more aware of the charity and the sufferers.
"More money needs to go into research.
"In Northern Ireland we are worse off than our counterparts in the UK. We need to get more people in Northern Ireland involved in the charity. We would love to hear from anyone who has ideas of raising money or would run the marathon for the charity.
Anyone who would like to help Parkinsons UK or would like more information can ring Valerie on 92638888.
Ulster Star
16/09/2010