Gloves off as Lisburn confronts Belfast
over attempts to stop Lewis coming to Sprucefield
Lisburn comes out fighting over Lewis store debate
by STACEY HEANEY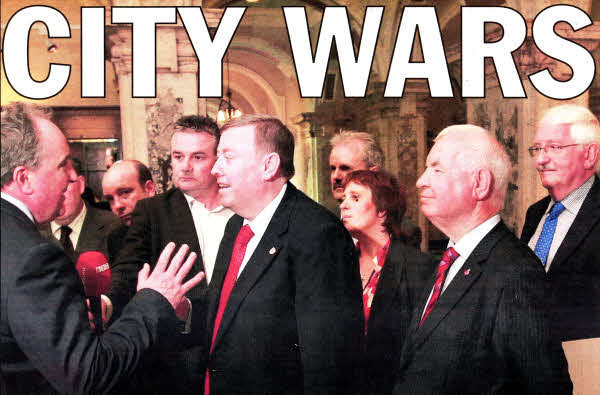 Lisburn's Mayor Paul Porter asks Belfast City Council's Chief Executive Peter McNaney why they were excluded from the meeting about the John Lewis planning application.
A CROSS PARTY group of councillors has gone to Belfast City Hall to protest against a meeting calIed to hear why John Lewis should be made to go there instead of Sprucefield.
Amid unprecedented scenes the group, led by Mayor Paul Porter, attempted to hand over a letter to the Lord Mayor of Belfast Pat Convery teIling him they believed Belfast's actions in trying to stop the retailer's plans weren't just damaging the two councils, but the Northern Ireland economy.
Belfast insisted the meeting, which was addressed by the boss of House of Fraser who are the anchor tenant in Victoria Square, was organised by a PR company - even though the invitations were sent out on Belfast City CounciI headed notepaper and were signed by the Lord Mayor with RSVPs going to the Chief Executive's assistant.
In the invitation Mr Convery said the lunch was to 'explore the issue of the protection of towns and city centres generally' and the Sprucefield issue in particular, and added Belfast had "been forced into legal action" over the John Lewis plan.
It said the event would be attended by the media, political representatives, a number of Chamber of commerce representatives from across Northern Ireland and 'others that are concerned about the protection of towns and city centres'.
Lisburn Council said it asked to be invited to the event because it was clearly about their area - but were refused and took the decision to go along to highlight its disappointment at being excluded.
Inside the City Hall, Mr Porter and the Council delegation were met by the Chief Executive of Belfast City Council, Mr Peter McNaney, who accepted a letter from Lisburn's Mayor expressing his disappointment on being left out of the discussions.
"I felt so strongly about the fact that Belfast City Council has tried to distance the Elected Members of Lisburn City Council on an issue that is so relevant to our area, that I had to come here today, with the support of my fellow Councillors, to show our disappointment at not being invited" Mr Porter said. "I felt that we could add something constructive to the meeting to ensure an open, balanced and meaningful discussion." Following discussions with Mr McNaney, the Mayor and the Deputy Mayor, Councillor Brian Heading, were invited to a short private meeting with the Lord Mayor.
Mr Porter said: "This is not about Lisburn, this is not about Belfast, this is about trying to bring investment into Northern Ireland plc. And as the two major cities in Northern Ireland, I thought we could have worked together.
"It is disgraceful, regrettable and I must say appalling, that they're trying to stop a major outlet that would create jobs."
However, Mr Convery said: "It's never been the intention of Belfast City Council at any time to snub anyone. This is about the greater good of Northern Ireland. The reality is that Belfast and other town centres will be considerably less attractive to future private sector investment if permission for the Sprucefield development is granted."
Councillor Heading and the chairman of Lisburn's planning committee, Councillor Ronnie Crawford, then attended the main lunchtime event, which included a number of presentations regarding the need for Belfast to ensure that it is the main retail hub in Northern Ireland.
Mr Crawford said: "There was no opportunity for anyone from Lisburn to have their voice heard and the meeting was very much a Belfast versus Lisburn discussion with regard to the Westfield development at Sprucefield. Belfast feel strongly that this development will have an adverse effect on the Belfast retail sector but Lisburn City Council has the foresight to see the positive benefits of this development in terms of inward investment and the creation of jobs for all people across Northern Ireland, not just Lisburn. "After the meeting I had the opportunity to express my concerns to John King from the House of Fraser and explained that the rest of Northern Ireland had already lost out on a National Stadium to Belfast and wasn't going to lose out again." The Mayor concluded: "We should not have had to go to these lengths in order to get into a meeting to discuss a development in our city given its importance to Lisburn and indeed the wider community in Northern Ireland.
"It is disappointing that it had to come to this in order to get into the meeting but I welcome the fact that we were finally represented. The Council has always supported the Sprucefield development and is looking forward to the Public Inquiry, when all parties involved will have the opportunity to express their views through the Planning Appeals process."
A Belfast City Council Spokesperson said the Council had not sent out invites as the event was organised by a PR company.
He added: "Lisburn City Council issued a press release that Belfast City Council had taken the decision to invite Councillors and Chambers of Commerce etc but Belfast City Council didn't take any part in organising this event; it was run by the Town Centre Management Association. The Lord Mayor was asked to host the event, but Belfast had nothing to do with the invites and weren't responsible for who was invited. Belfast were accused by Lisburn of having invited other Councils besides Lisburn - no Councils were invited, this was organised through MCE PR; we had nothing to do with this event whatsoever."
He added: "Lisburn Council asked to meet the Lord Mayor this morning, which was organised for them and they wanted him to come down to accept a letter of protest, which he wouldn't do and eventually Lisburn's Mayor went up to meet with the Lord Mayor. The letter of protest was based on the wrong premise; this was Lisburn getting the wrong end of the stick. One or two Councillors from other Councils were there, but they were there in another capacity, as they were on their City Centre Management."
He concluded: "Hopefully Lisburn didn't deliberately misunderstand this for a PR event. From Belfast City Council's point of view, we are disappointed it has been seen in this way."
Earlier, the head of the anchor tenant in Belfast's Victoria Square entered the debate. John King, chief executive of the House of Fraser, said John Lewis "should come to Belfast instead of Lisburn".
stacey.heaney@ulsterstar.co.uk
Ulster Star
27/08/2010