December date for John Lewis court hearing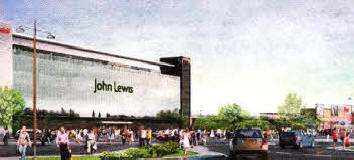 A JUDICIAL review into the proposed John Lewis development at Sprucefield has been set for next month.
The hearing will take place on December 13, 14 and 15 and will examine the issues surrounding the submission of an environmental impact report for the scheme.
Meanwhile, it has been revealed the Environment Minister, Edwin Poots, will not face any action over comments he made during a previous court hearing on the case. He had been critical of opponents of the John Lewis development using the courts and the judicial review process to 'stall' the public inquiry last month.
Comments made by Mr Poots to the BBC prior to the granting of leave for judicial review came under the spotlight when a judge asked the government's chief legal advisor to consider the remarks.
The Minister had told the BBC it was "outrageous" for courts to allow judicial reviews when it was
one commercial interest competing against another.
In early October, businesses opposed to the 500,000sq ft. retail scheme at Sprucefield had been granted leave to seek a judicial review over claims that a proper assessment was not carried out on the impact a development would have on badgers, bats and newts. Mr Poots told the BBC the actions of those involved in the litigation were "despicable and disgraceful" and "intolerable".
Lord Justice Paul Girvan said the remarks could amount to "bias and pre-determination" and Mr Poots faced the possibility that he would be held in contempt of court.
However, the attorney general's office has now said a decision had been taken "not to make an application under the Contempt of Court Act 1981 in respect of the remarks made by the Environment Minister Edwin Poots."
Ulster Star
05/11/2010