John Lewis legal bid is dismissed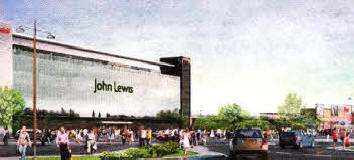 A LOCAL MLA has called on the Planning Appeals Commission to schedule a date for the long delayed public inquiry into the John Lewis Development at Sprucefield.
Paul Givan made the appeal this week after the a case brought by opponents of the development was settled in the High Court, thereby clearing the way for the inquiry to go ahead.
A number of opponents of the Sprucefield development, including House of Fraser and Central Craigavon Ltd, brought the legal challenge over claims that a proper assessment was not carried out on the environmental consequences for badgers, bats and newts at the site. This caused a further delay to the public inquiry, which had been scheduled to take place in October.
The Environment Minister had also been accused of bias after criticising the repeated legal challenges.
At the High Court this week a lawyer for the DoE rejected the allegations of bias against Mr Poots but said he had agreed to step aside from the decision-making role in the planning application, assigning responsibility instead to his permanent secretary- He also confirmed the Department has decided to make a fresh decision on whether to seek further environmental information in accordance with the relevant regulations. On that basis, he contended, it would serve no purpose to continue with the application for judicial review.
Lawyers for the rival retailers who brought the case welcomed the position taken by the department.
William Orbinson QC, appearing for the House of Fraser and other businesses in Belfast, said: "We have in essence achieved what we sought to achieve in our application."
However, David Scoffield, appearing for Central Craigavon Limited, expressed some reservations about the "quick-fix adopted by the minister".
The judge, Mr Justice Weatherup, agreed to dismiss the case with the Department ordered to pay the legal costs.
Speaking after the court case Lagan Valley MLA Paul Givan called on the PAC to hold the public inquiry before Christmas. "I welcome the decision in the case," he said. "I would commend the Minister for selflessly taking decisions which will now facilitate the public inquiry and would call on the PAC to establish the public inquiry and have it heard before Christmas. The onus now is on them to move swiftly and allow the application, which had been delayed for too long, to finally be heard."
Another Lagan Valley MLA, Trevor Lunn, said that progress must now be made on the development.
"Whether the Minister is involved or not, what I want to see is progress on the John Lewis plan," he said. "How long do people think this massive chain will hang about waiting for approval? They could quite easily set up elsewhere if there are many more delays.
"I don't care whether the Minister is involved or not. The only thing I care about in all this is doing what's right for Lagan Valley and Northern Ireland."
Ulster Star
12/11/2010