WELCOME HOME JOSHUA
Little boy who got life saving transplant from sister back from London
by MARY MAGEE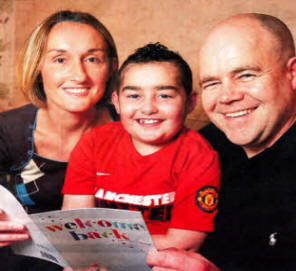 Julie and Joe Fletcher, Moira, with their son Joshua, 8, who has returned home after spending eight months in London for a bone marrow transplant. US401O-516cd
THE local boy who received a life saving bone marrow transplant from his little sister has finally returned home from London, eight months after the operation that will transform his future.
It is the latest step on the journey eight-year-old Joshua Fletcher has been on since he was diagnosed with Diamond Blackfan Anaemia, a rare blood disorder, when he was only six weeks old.
Joshua has now been re-united with his brother Adam (11) and sister Jodie, who started primary school in September.
He had been expected to come home several months ago with his mum and dad, Julie and Joe, after making a remarkable recovery described by medical staff at St Mary's Hospital in London as being one of the 'most trouble free transplants' they had come across.
However in May he developed a cough which was diagnosed as a graft-versus-host disease (GVHD), a complication of bone marrow transplants in which immune cells in the transplanted marrow recognise the recipient as "foreign" and mount an immunologic attack.
Although he recovered well, Julie and Joe will have to keep a watchful eye for infections.
The family were not even allowed to fly home because of the fear of picking something up and had to return from London via ferry.
"Joshua has been briIliant throughout and never complained once," Julie said. "We wanted to get him home desperately, but we wanted him home well."
Now back in Moira, Joshua has been visited by friends and attends the Royal every Monday to get his bloods checked.
"It was tough for the whole family to be apart during the eight months but we often saw Adam, who started Wallace in September and Jodie, who started P1 in Meadow Bridge, every few weeks thanks to my mum and their aunts and uncles.
"Joshua was in good form most of the time but it was hard for him because he watched visitors leave and wondered when was it was his time to go home."
Julie says that although Joshua is on the road to recovery she is aware there could be further setbacks
"We still have to keep an eye on him," she said. "It is likely he will get a cough because the other children are bound to bring stuff back here but we are at least at the good side towards the end of this journey. And it has been quite a journey for us all, but it has been worth it.
"Hopefully we will get back to normality soon whatever normality is now."
The Moira boy has been away from home since the end of January to have the bone marrow transplant from his 'designer' sister Jodie. The operation took place on February 10, his eighth birthday.
Joshua was only six-weeks-old when he was diagnosed and had to undergo blood transfusions every three weeks to keep him alive.
His parents were told the only chance he would survive would be a bone marrow match. His older brother Adam was not a match and they then had to fight with the Human FertiIisation and Embryology Authority (HFEA) for the right to use a screening process during IVF treatment which allowed doctors to select an embryo that was the closest match to their sick son.
As a result their daughter Jodie was born, the UK's first so called designer baby in July 2005.
In July last year Joshua developed an overload in his liver and Julie and Joe were forced into the decision to have a transplant.
If all continues to go well Joshua could be back behind his desk at Meadowbridge Primary School next February when he is expected to come off medication.
Ulster Star
15/10/2010