`We'll go anywhere to find a cancer cure for Kirsten'
Parents of four-year-old ready to travel 'to the ends of the earth'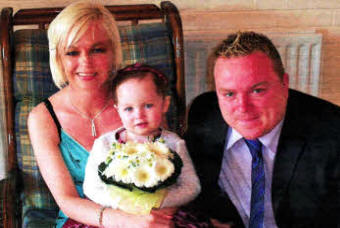 A DROMORE woman has told how her family is prepared to go to the ends of the Earth in search of a cancer cure for the four year-old daughter they call their "wee princess".
Little Kirsten Brown of Hawthorn Walk was diagnosed with ependymoma' a rare kind of brain tumour, at the age of just 18-months and for a year and a half endured a battery of surgical and drug treatment thought to have stopped the cancer in its tracks.
But around this time last year the tumour started growing again, and with doctors here declaring it inoperable Kirsten's family are now waiting for a second opinion from London's Great Ormond Street Hospital.
"We are waiting on Great Ormond Street getting back to us to see if they can operate," said Kirsten's mum' Lisa' "and if not, we are going to try America.
"We don't want to give up. If they can't operate we'll ask about trial drugs; we are prepared to try anything."
Lisa knows that if America offers hope of surgery she, her husband Paul and their family, will be faced with a mountain of money to raise, but she remains undaunted.
"We'll just have to raise it ourselves'" she said, "but we have plenty of friends and family who will help."
Lisa spoke of the devastation she and her family experienced when' in November 2007, what began as a suspected ear infection turned out to be a brain tumour.
"Our whole lives fell apart from then'" she said. "It was just devastating; we had no idea it was as awful as that.
"We thought Kirsten had an ear infection at the start; we kept bringing her to the doctors and they kept saying it was an ear infection.
"Then she started getting worse; she was vomiting and holding her head in the early mornings, but they still kept saying they didn't see much wrong.
"Ten days later I took her to the Royal myself; they did a CT scan and found the tumour."
Kirsten first had a fluid shunt implanted before undergoing major surgery in an attempt to remove the tumour."They were only able to get some of it out'" said Lisa' whose visits to the Royal left her shocked at just how many children are affected by cancer. "Then Kirsten had a year and half of chemotherapy and that was very hard on her."
Treatment began again when Kirsten's tumour started growing last year; she underwent six weeks of daily radiotherapy and is now receiving chemotherapy at home, three weeks on, one week off.
Lisa said her indomitable little girl had good days and bad days with her treatment, but had been "remarkable" through it all.
"She tires easily and her speech is affected," she said, "but apart from that she's still the same wee Kirsten. "She has coped very well, though she is very petted on by me and she loves adult company, more so than children's."
Kirsten's two brothers, Jordan (12) and Jamie (10) are very protective of her. "They have been hit hard by what's happened'" said Lisa' "but they have got more used to it now.
"I feel sorry for them; we had a couple of holidays we had to cancel, but (the charity) 'Shine a Light' sent us on holiday recently, more for the boys, and I was just glad we could have done that for them."
Family and friends, said Lisa, had been "brilliant" in terms of the support they had given, though some people were afraid to talk to her, she said, because they didn't know what to say.
Family members are in no dount that Kirsten is "the best wee girl in the world".
"We call her our wee princess'" said Lisa. "She loves arts and crafts and she's very girly; she loves getting her nails painted.
"She's just been a wee miracle from day one, because she was so seriously ill' and we just can't believe what we've been told because she has fought this for so long."
Ulster Star
02/07/2010