Lagan Valley Regional Park needs your vote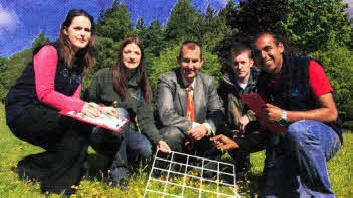 LAGAN Valley Regional Park's Laganscape project, financed by the Heritage Lottery Fund, has made it to the semi-final of the National Lottery Award competition and local people are encouraged to show their support by voting for the project.
This annual awards scheme is in recognition of UK projects that have made best use of original Lottery funding by making a difference to the lives of local people and communities. Laganscape is the only successful environmental project entered from Northern Ireland. Since receiving the Heritage Lottery Fund grant in 2007 the Laganscape team have worked tirelessly devising numerous ways to improve habitats for wildlife and expose the beauty of the park to the public, touching the lives of many people in many ways.
Commenting Environment Minister, Edwin Poots said: "This is a great achievement For all those involved in this project. The commitment shown by the volunteers is second to none.
"I am appealing to public to vote for the Laganscape Project and give the park the recognition it deserves." Laganscape teamed up with local primary schools to promote the use of the outdoor classroom by making space for nature in their school grounds. Pupils have been involved in the design and creation of some fantastic projects which include: planting a tree trail, creating ponds that will be used to discover the wonders of underwater life, building 'minibeast mansions' and constructing a wildflower garden that will bring birds, bees and butterflies to the drab corner of any school ground.
Mr Meharry, principal at Seymour Hill Primary School whose pupils who are involved in the Laganscape Project, said: "This has been a fantastic experience for the children arid has really brought science to life."
Brendan O'Connor, Laganscape project manager added: "Winning this competition would help us to continue to protect the habitats, flora and fauna, landscapes and everything that visitors have come to value. We need your vote." The park will be in competition with other national environmental projects which can be seen at the lottery's website www.lotterygoodcauses.org.0 k/awards. People can vote for the park by either telephoning the following special lottery number —08446866390, or by visiting the lottery's website. The range of projects being undertaken are detailed on the website at - www.laganvalley.co.uk. Votes must be recorded before midday, June 18 and the final of the competition will be broadcast on a primetime BBC1 show later in the year.
jenny.monroe@ulsterslar.co.uk
Ulster Star
04/06/2010