Lisburn soldier proves gallantry 'not just in history books'
HERO PRESENTS MEDAL TO REGIMENTAL MUSEUM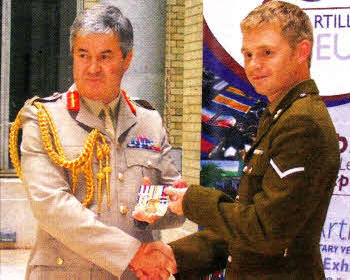 THE courage of a Lisburn soldier who risked his life three times in Afghanistan proves that "gallantry is not something that can only be found in the pages of history books", a General has said.
Major General R L Barrons was speaking after receiving the Conspicuous Gallantry Cross awarded to Lance Bombardier Gary Prout who presented it to Firepower, the Royal Artillery Museum.
At a ceremony at the Ministry of Defence last Friday the medal was presented by Lance Bombardier Prout himself to Major General Barrons, Chairman of Firepower which plans to display the rare gallantry award along with Mr Prout's Iraq Medal and Operational Service Medal (Afghanistan) at the museum in South East London.
Lance Bombardier Prout was awarded the medal for risking his life in 2009 by attempting to save the life of one of his colleagues under intense enemy fire in Afghanistan. A member of 19th Regiment Royal Artillery, Lance Bombardier Prout was tasked to patrol and probe the Taliban's forward defences in the area south of Musa Qaleh.
After several hours the patrol was attacked and pinned down by numerous enemy firing points using small arms and rocket propelled grenades (RPGs). One of the soldiers was hit by the explosion and was stranded, in the open, unable to move because of his injuries. Ignoring the obvious danger, Lance Bombardier Prout broke cover and ran forward in full view of the enemy to help his colleague. The enemy saw him administering first aid and trained their fire on him.
Despite the increasing fire,, he managed to drag the casualty to safety and get him to a medic. As soon as he was satisfied that his colleague was in good hands, Lance Bombardier Prout once again risked his life, returning to his fire support team to help the fight. Using a smokescreen and calling for air support they managed to extract themselves back to base without further injury.
On accepting the medal General Barrons said: "This medal is a very signifacant addition to the already fine and impressive collection of medals on display at The Royal Artillery Museum. Its recipient, Lance Bombardier Prout, demonstrated that gallantry is not something that can be only found in the pages of history books.
"When museum visitors view the medal they will be reminded that the Royal Artillery Museum and the men and women whose stories it tells is as much about what is happening in the world today as it is with the Regiment's celebrated and glorious past."
julieann.spence@ulslerstar.co.uk
Ulster Star
23/07/2010