Parish pray for Laurelhill pupil `critical' after cycle accident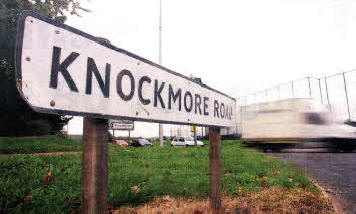 THE MINISTER of St Mark's Church of Ireland Ballymacash, Canon George Irwin, is calling on the parish to pray for the 14-year-old Laurelhill schoolboy who was involved in an accident on Monday evening at the Prince William/Knockmore Road junction.
Canon Irwin said Dean McCrory, who suffered head injuries after being hit by a car while out cycling, remains critical in intensive care at the Royal Victoria Hospital.
"Our thoughts and prayers are with the family at this very difficult time," said Canon Irwin.
Police say they have received calls from eye witnesses, but have called for other witnesses to come forward with any information they might have.
The chairman of the Board of Governors at Laurelhill High School, MLA Jonathan Craig, said the accident has had a 'major impact' on the school.
Dean was cycling to his Rathvarna home when he was involved in an accident with a car at the Prince William and Knockmore Road junction.
He suffered head and leg injuries and was taken to the Royal Victoria Hospital where he has remained sedated in intensive care. He underwent an operation the following morning and remains critical.
Mr Craig said the pupils of the school are 'deeply shocked' at what has happened.
"My thoughts and prayers are with the family at this time. We hope he will make a full and speedy recovery. "This is an horrendous time not only for the school but for the family as well," he said.
Roads Safety Minister Edwin Poots said he hoped the boy would make a full recovery.
"This is another terrible event on our roads and while the number of accidents taking place involving death or serious injury has been reduced, it is of little comfort to individuals who have been involved in serious accidents," he said.
"Our thoughts are with the family of this young boy at this time and we trust he will make a full recovery from the injuries he sustained."
Deputy Mayor of Lisburn Councillor Brian Heading said: "This must have been a traumatic experience for the boy and it is a very worrying time for his family. I wish him a full and fast recovery following this awful accident."
Ulster Star
24/09/2010