Fun in the sun as Lisburn beat champions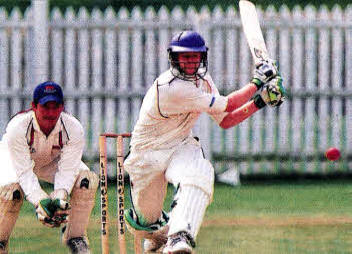 LISBURN upset the form book in the Park last Saturday when they took the league points from a so far unbeaten Waringstown. They produced their best performance of the new season with a 30 run win and fully deserved their success in the sun.
Greg Thompson, winning the toss, had no hesitation in batting first on a true Wallace Park wicket and although they lost the early wicket of Richard Simpson, dubiously lbw in' the 6th over, Lisburn looked secure with Ryan Ervine and professional Yasas Tillakaratne at the crease.
The pair added 20 for the 2nd wicket before Tillakaratne was bowled by Simon Harrison for a solid 16 and his place was taken by an equally determined Adam Berry back in the team after a brief spell on the Seconds. He seemed to be in little bother against the visitors attack and struck four fine boundaries in his vital stand of 45 with the dependable Ervine. Unfortunately, Berry was bowled by left arm spinner Gary Kidd in the 24th over for a very sound 16, leaving Lisburn at 77 for 3.
All the time Ryan Ervine was batting with fluency; his timing and placement of the ball being of the highest quality.
He and skipper Greg Thompson embarked on another good stand of 68 in even time before Ryan was caught in the deep for a very fine 73. He had struck his previous two deliveries for a six and a four and attempting another was caught at wide long on.
At the fall of Ervine's wicket the 4th of the innings, Lisburn had reached a respectable 143 in the 40th over but they knew they needed more than 200 to put pressure on the strong Waringstown batting order and it was vital that the last ten overs should produce as many runs as possible.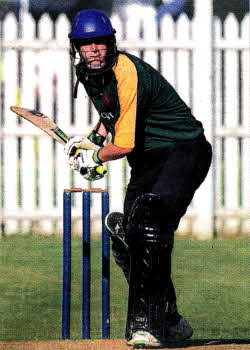 This they did in some style, Greg Thompson and Davey Simpson added a further 17 before Thompson was also dismissed going for a big shot, this time he was caught by Allen off Morrison for a very useful 39.
At this point, Lisburn were 160 for 5 in the 44th over and struggling to make their target but Davey Simpson and Johnny Bell did some good striking and some great running between the wickets to add 39 crucial runs in just 5 overs before Simpson was unfortunately run out for a priceless 27.
Hennie van de Merwe came to the wicket with just 10 balls left in the innings but he struck a six to bring Lisburn's final tally to a competitive 209 for 6. Johnny Bell remained 15 not out and van de Merwe 7 not out.
This had been a spirited batting performance by Lisburn, always looking slightly short of their desired run total they had battled hard and eventually reached a figure which would test the Waringstown batting line up.
Key man for Waringstown was, of course, Kyle McCallan who was averaging over 200 before the game and was obviously the prime target for the Lisburn attack.
Opening bowlers, Ryan Ervine and Davey Simpson began very accurately and Waringstown had to work hard for every run. Waringstown's opening pair of McCallan and James Hall looked comfortable in reaching 46 without loss but in the 12th over, Davey Simpson struck the first blow with the wicket of Hall. Caught behind the wicket by Derek McCann for 30 and three overs later the precious scalp of McCallan was claimed by a jubilant Richard McConkey who had him caught by Adam Berry off a gentle out swinger. He had scored just 14 and Lisburn knew were well in with a chance of a surprise victory.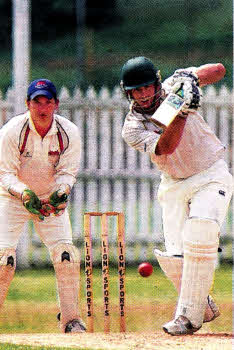 Waringstown had reached 90 for 3 in the 25th over with Andrew Cousins developing into the danger man. He lost partners in Morrison and captain Johnny Bushe but when he found a worthy ally in Simon Harrison, Waringstown again looked favourites to take the points, The 6th wicket stand between the pair added a vital 54 in even time with runs coming quite easily and Lisburn looking vulnerable but with the score at 164 in the 42nd over, Cousins was well caught by Hennie van de Merwe in the deep off Greg Thomspon and the spell was broken. Cousins had scored 65 and had set his team up for a win but at his dismissal Lisburn were going for the kill.
Waringstown still required 46 off the remaining 8 overs so the match was far from over but in the 45th over, Harrison was lbw to Thompson for 19 and when Matthews was run out, Kidd stumped by McCann off van de Merwe and Mpitsane lbw to Davey Simpson it was time for Lisburn to rejoice in a somewhat unexpected victory.
Waringstown had been bowled out for 179 in the 47th over leaving Lisburn the winners by 30 runs. They had bowled and fielded well for almost all of the Waringstown innings and fully deserved the very important league points. This leaves Lisburn with 3 wins out of 5 and full of confidence for, their next league encounter.
The Lisburn bowling had been impressive throughout with Richard McConkey recording the superb figures of 3 for 21 off 9 overs including the priceless wicket of McCallan. Davey Simpson took 2 for 40 off his 10 overs while Greg Thompson, having taken some punishment in the middle of the innings, kept his nerve to take 3 for 44 and probably the match winning wicket of Andrew Cousins. Hennie van de Merwe took 1 for 25 off his 8 overs of off spin and only Ryan Ervine and Yasas Tillakaratne went without a wicket. Ervine, however, bowled his 7 overs for just 23 runs while the pro had only 13 taken off his 3 overs.
Unfortunately, having achieved a fine win on Saturday, Lisburn find themselves without a match this weekend. They were due to play CSNI but they are involved in the second round of the Irish Cup, a competition Lisburn went out of at the first hurdle a few weeks ago.
Ulster Star
11/06/2010