Lisburn hero's cool head that saved one of his men in Afghanistan
MARINE SPEAKS OF THE LEGEND `MISSED MORE THAN WORDS CAN SAY'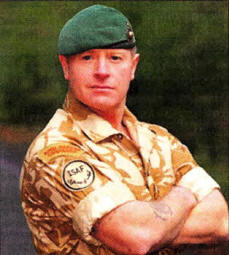 A MARINE currently serving in Afghanistan has spoken for the first time about the Lisburn man who saved his life.
Wayne Gately, 26, is with 40 Commando Royal Marines who are on a six months operational tour in Sangin, Helmand Province and this week he spoke about the man who saved his life - Corporal Stephen Walker, the Lisburn hero who was tragically killed in action earlier this year.
Marine Gately recalled the most dangerous moment not just of the tour, but of his life. He was out on patrol in the Green Zone of Sangin when he was millimeters away from walking through a trip wire that would have set off an improvised Explosive Device (IED).
Marine Gately and his unit were moving through a number of tree lines. As they stepped onto a field of crops the local farmer came out and guided them around his field on a path he knew to be safe from IEDs.
Once beyond the farmer's field the patrol moved through the neighbouring field of wheat crops and approached a compound. Marine Gately was in the lead, guiding the patrol on a route safe from IEDs. The wheat was about chest height when Corporal 'Whiskey' Walker, the Section Commander, bellowed at him to halt.
"I stopped and when I looked down I saw a purple tripwire caught around my Osprey (body armour) and bayonet," he recalls. "I was terrified, but Whiskey told me to not move. I didn't breath or anything. Whiskey came over and he plucked the wire out of my Osprey and then gently I started moving back."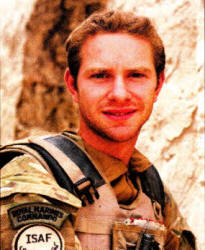 Under Whiskey's orders, Marine Gately slowly inched back as Whiskey carefully removed the purple tripwire from him, which took a couple of minutes. "I had about a minute or so just to come to terms with what could have happened," he continued. "I moved to the back of the patrol and sat there for a couple of minutes to get my breath back.
' The moment I saw I was tangled up in the wire, my heart stopped. It was the longest two minutes of my life. Whiskey definitely saved my life that day.
"It was quite a weird moment because normally, when someone shouts 'stop stop stop' we would drop to our knees. If I'd have done that this time, it would have pulled the trip wire — who knows what would've happened."
Tragically Corporal Walker, a Lisburn man, lost his life on May 21, 2010 in an explosion in Sangin District.
He was killed by an explosion while he was conducting a joint foot patrol with the Afghan National Army .
Marine Gately said, "Many of us owe a lot to Whiskey, he was a legend and we miss him more than words can say."
julieann.spence@ulsterstar.co.uk
Ulster Star
03/09/2010