Caber tossing and skirl of the pipes as Highland Games
come to Lisburn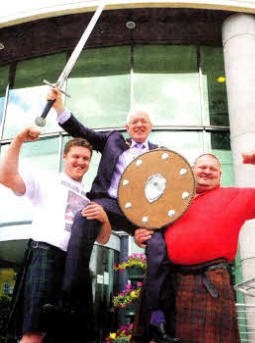 L1SBURN'S first ever Highland Games are set to take place in the grounds of Lagan Valley LeisurePlex at the end of the month.
Lisburn City Council has joined with the Irish Strength Association to bring the family day to the city on Saturday, June 26 from 12 noon to 6pm, with funding support from the Ulster Scots Agency.
The Mayor, Councillor Allan Ewart, said: This event offers a variety of attractions from traditional highland games such as the tossing of cabers to highland dancing exhibitions. The games are free to attend, car parking onsite is free and most of the children's attractions in the 'fun zone' are also free.
"I hope that visitors from across Ireland will come along to Lisburn and enjoy this fantastic day with many new and traditional events to be enjoyed by all. There will be a Sled Dog Show during which huskies will pull weighted sleds around the arena. Music at the games will include traditional folk music from Willie Drennan and his Ulster Scots Band and the Stone Wall Band."
Glenn Ross, former UK strongest man and co-organiser of the games, said: "I was very keen to bring the Highland Games to Lisburn following the success of last year's Strongman Competition.
Combining that successful event with the history and culture of Lisburn make it the ideal place for the oldest of the 'strength competitions'. On the day there will be two competitions held: Series J of the Highland Warrior Games and the Novice Highland Games, both of which I will be commentating on."
The competitors, taking part in the games are from across Ulster and the rest of Ireland including Donegal, Cavan, Meath and Tipperary. Last year's Highland Champion Jonathan Kelly will be defending his title against former Irish Champion Jason Riley and other competitors such as Barry Delaney.
Ulster Star
18/06/2010