Local group enjoy special AD movie screening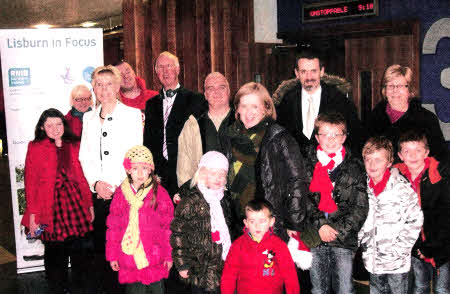 Some of those who attended the Audio Description screening at Lisburn Omniplex last week, including local sporting star, Janet Gray.
IT was popcorn galore as local people turned out in force last week when Lisburn in Focus, a five year project funded by the Big Lottery Fund's Safe and Well Programme, organised a special Audio Description (AD) screening at Lisburn Omniplex for local blind and partially sighted people.
The group, who attended the screening with family and friends, thoroughly enjoyed the showing of the new animated movie Despicable Me!
As well as watching the movie, the group also enjoyed some mince pies and tea or coffee after the film.
Audio Description (AD) makes the visual images of media accessible for people who are blind and partially sighted - the visual is made verbal. Like a narrator telling a story, audio description is an additional commentary describing body language, expressions and movements giving you information about the things you might not be able to see, meaning that you can keep up with the action. The audio description is provided via headsets only to those that request it - so does not affect anyone else's enjoyment of the performance.
The Omniplex currently screens one film a week with audio description but this is usually during an early evening slot - around 5pm - and the description is delivered to the whole audience instead of through the headsets. Lisburn in Focus, a partnership consisting of Guide Dogs, Lisburn City Centre Management, Lisburn City Council and lead by RNIB is keen that blind and partially sighted people are not segregated and can watch the latest films with their sighted friends and family
Local sporting star and Freeman of the City, Janet Gray attended the event and is a strong advocate of audio description: "I am delighted that Lisburn Omniplex still put their audio description equipment to use, even if it is only once a week, but I would really like to see more choice for blind and partially sighted cinema goers. We don't want special screenings or to be segregated from our sighted family and friends - we want to sit beside them and for all of us to enjoy the film together!"
Lisburn in Focus staff have been encouraged by the willingness of Omniplex staff to try different things regarding audio described screenings as it was clear by the low numbers attending the current weekly screening that the current system was not working. The project hopes to continue to work with the Omniplex and gradually build up the number of screenings and the numbers attending.
Ulster Star
/2010