The one that got away for Lisburn
LlSBURN 18
DUNGANNON SECONDS 30
RUGBY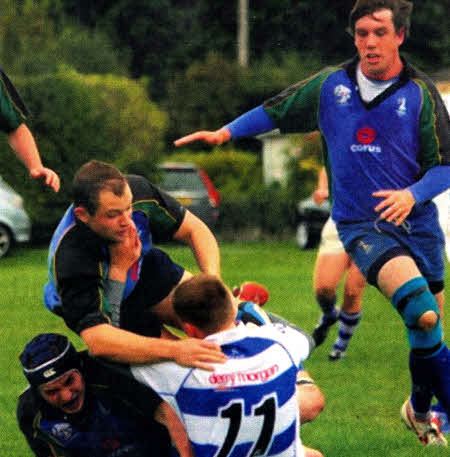 Lisburn's Adam Melville and Andrew Gibb ensures this Dungannon player doesn't go anywhere. Photo by Tom Porter Photography.
The Corus sponsored Lisburn Firsts lost out to Dungannon Seconds in the first round of the Junior Cup at Blaris last Saturday in a match that will be remembered by the home team as the one that got away.
With just three minutes remaining Lisburn were leading 18-15 and seemingly easing themselves towards a well deserved win. For the previous 32 minutes of the second period they had spent most of it on the attack in Dungannon territory but drama was just about to unfold.
Lisburn Number 8, Andy Hamilton, had just gone off with a nasty wrist injury when the dangerous Dungannon back line suddenly gained possession and escaped from the stranglehold in which they had been held for long periods.
In a race for the corner flag the big Dungannon wing appeared to have put his foot in touch but this went unseen by the touch judge and suddenly, from nowhere, Dungannon were in front by the narrow margin of two points. With just three minutes remaining, Lisburn inevitably started to chase the game and as is common in these circumstances, further errors were compounded as the speedy Dungannon back line broke out again to score two unconverted tries in injury time. The final score did not do justice to a home team performance that had all the excitement of a typical cup tie.
The match had started with a simple Ryan Hill penalty for Lisburn but this was cancelled out by a seven pointer from Dungannon as they broke infield following a poor Lisburn drop out on 25 minutes. Five minutes later Lisburn gifted the visitors another five points when a loose tap down from a line out on their own line left the Dungannon pack with the simple task of just having to fall on the ball. This setback spurred on the home team and just before the half time whistle they were rewarded when outhalf Ally Finlay feinted to make a sharp break and put winger Simon
Gardiner through for his first try for the club.
After the interval Dungannon increased their lead to 8-15 with a further penalty but this deficit was soon reduced when the Finlay/Gardiner partnership worked their magic again to bring the score to 13-15. Lisburn then took the lead for the first time following a fine try from charging skipper Chris Kidd who was playing a proverbial blinder along with his backrow colleagues Andy Hamilton and Alan Hughes.
The remainder of the game saw Lisburn attacking at every opportunity and their strong running back line also kept their dangerous Dungannon counter-parts in check until those last final minutes. The Lisburn coach, Bruce Cornelius, will be happy with the much improved performance of his team, if not with the result. They will work on the areas that need fixing, particularly those arising from unforced errors at line out and restart time.
This Saturday Lisburn travel to Belfast High School FP for what will be seen as a must win game by both teams.
Memories of 1950's and `Lisgannon Cup' recalled with Dungannon clash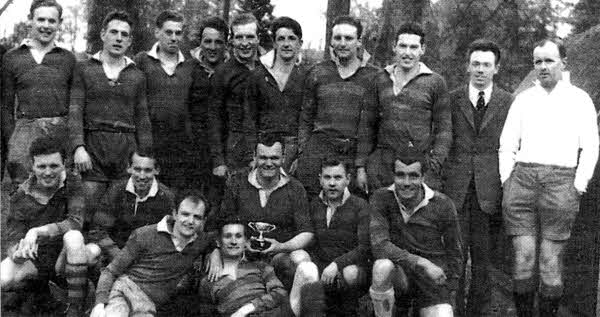 The successful Lisburn Academicals team with the Llsgannon Cup they won in the 1950's. Included are back left, Archie Dickson, Nicky Reilly, Lawrence Corkin, Jim Anderson, Alan Simspon, George McCready, George Saulters, Ken Elliott, Ronnie Shirlow, Robert Bell. Front left, John McCready, Robin Cruikshanks, Bob Keeney, Jim Cruikshanks, Frank Pettigrew, Bobby Watson and John Lilley.
THE pairing of Lisburn with Dungannon in last week's Junior Cup match evoked memories of the 1950's when these two clubs played each other for the Lisgannon Cup. This was basically a social event, and could have been termed the First of the Summer Wine, but played in a very competitive spirit nonetheless- It came about through Paddy Wright, who had deep roots in both clubs, and consisted of two XVs derived from all levels of the clubs.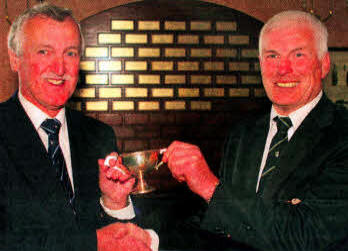 Those were the days when an away fixture really was 'away'. As few players had cars, to get to Dungannon it was necessary to get a train to Portadown and change there for Dungannon. Changing for the match was done in a local pub, and après match festivities included the local dance. It was not unknown for some not to be home for church on Sunday.
The fact Lisburn were able to produce the actual cup last Saturday would indicate that they were the eventual winners of this titanic struggle. Photographs of both teams were also available, and at least four of the Lisburn team were in attendance. The photo of the Dungannon side has been forwarded to them for identification, but at least one member present was able to recognise his father.
Even though Dungannon won last Saturday, Lisburn retained possession of the trophy due to the fact that it had not been at stake, and also their refusal to hand it over.
Lisburn and Dungannon have gone their different ways in the last half century, but there is no reason why this competition cannot be revived if compatible teams can be arranged.
Ulster Star
01/10/2010