The hunt begins for Lisburn's unsung heroes with launch of annual awards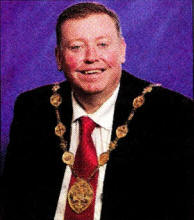 THE annual hunt for Lisburn's unsung heroes has begun as the Mayor launched the sixth Mayor's Awards for Volunteering.
The awards were was developed to provide recognition to the volunteers in the area for the outstanding work which they carry out within their communities.
Alderman Paul Porter, speaking at the launch, said: "I am amazed by the number of volunteers there are within the Lisburn area. To help accommodate this large number the nomination criteria has been changed slightly. Now if one or more individuals from the same group are being nominated then the nomination must be made under a group category and not single nominations.
"Volunteering is about giving back to your community and having met many local volunteers I know that they also gain from their experiences in ways such as achieving personal goals, developing new skills and practising their talents."
Mr. Porter added:
"Volunteering makes a difference to the lives of others, but collectively, by bringing the values of volunteering with us wherever we go in life, we can make the difference in creating a new, better society for the future. I would like to commend all the Lisburn volunteers and thank you for giving up your time to assist others.
"Events such as these Awards continually renew my faith in society and go a long way to prove that individuals are indeed a highly valuable commodity that needs encouragement to continue to help others," he concluded.
Lisburn Council and its partners: South Eastern Health and Social Care Trust, Volunteer Now and the South Eastern Education and Library Board, are now inviting nominations for the awards.
There are four categories:
Young Volunteer of the Year
Recognising volunteering among young people under the age of 25;
Adult Volunteer of the Year
Recognising volunteering among adults over the age of 25; and
Small and Large Group Volunteers of the Year - Recognising small and large groups or
organisations that currently provide a range of volunteering opportunities; support volunteer training or who are engaged in the active recruitment of volunteers within the Lisburn City Council area.
Nominations for each of the award categories will be accepted from individuals, community/voluntary and statutory representatives, who know individuals or groups worthy of recognition.
If you are aware of any group or individual who you think deserves recognition under the 'Mayor's Awards for Volunteering 2011', you can contact Miss Rhonda Frew, Community Development Officer, Bridge Community Centre on 9266 2496 or email: rhonda.frew@lisburn.gov.uk for a nomination pack. Nomination packs can also be downloaded from www.lisburncity.gov.uk.
The closing date for completed nomination forms is Monday January 17 2011 at 4pm.
Ulster Star
254/12/2010