Third place finish after victory in the rain
CRICKET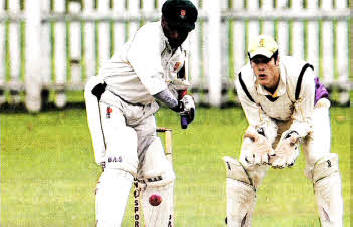 A thoroughly miserable day in Wallace Park almost ruined Lisburn's last league game against Lurgan.
Heavy rain at regular intervals did not, however stop their 14th win of the season and a third place finish in the Premier League.
They eventually won by 8 wickets after the match had been reduced on three occasions by Duckworth/Lewis but in the end Lisburn scored their required 108 in just 17 overs to claim the points.
Lurgan, already relegated some weeks ago, won the toss and batted with rain threatening and lost three wickets before play was severely interrupted. Graham Hunter was first to go, caught at slip by Hennie van de Merwe off the bowling of Davey , Simpson with the score on 17. Fellow opener, Adam Bradford was also caught in the slips by van de Merwe for a useful 21, this time of the spin of Greg Thompson.
The Lurgan score was then 32 for 2 in the 11th over and worst was to follow an over later when McCollum was bowled by Simpson leaving the visitors at 33 for 3. A few minutes later, heavy rain drove the players off the pitch and they did not return for almost and hour and a half.
The Lurgan innings was reduced to 35 overs and after another shower, further reduced to 33 overs but professional Godbole and number five, McKnight found runs easy to score after the resumption as Lisburn seemed to relax. The pair added a precious 51 for the 4th wicket before McKnight was well caught at the wicket by Johnny Bell filing in for the injured Dereck McCann.
McKnight had scored a handy 22'' and he was replaced by Chambers who also was able to give good support to the Lurgan pro. He added a further 42 runs before he was stumped by Bell off Thompson for 16 taking Lurgan to 126 for 5 in the 30th over.
Godbole had looked in little trouble throughout his patient inning but in the 31st over he was run out for 56 and Lurgan had lost their chief run maker.
With just five overs remaining in their reduced innings, the Lurgan lower order were able to manage 20 more runs and after their 35 overs had set Lisburn a target of 147 as the rain, again began to alter the course of the match.
Lisburn's bowling had been very good once again; Davey Simpson took 2 for 21 in 6 overs while Ryan Ervine had 0 for 9 before having to end his spell prematurely.
Greg Thompson grabbed 3 for 26, Hennie van de Merwe, 1 for 36 and Yasas Tillakaratne, 1 for 34 in a disciplined bowling display.
After another lengthy delay, Lisburn were required to score 108 from 20 overs in gathering gloom and with regular opener Ryan Ervine incapacitated with a muscle spasm, Johnny Bell and Adam Berry got the Lisburn innings of to a start.
Unfortunately, Adam Berry was bowled in the fifth over by the Lurgan pro, Godbole but the dependable Yasas Tillakaratne joined Bell at the wicket and the two gradually took Lisburn into safety. They added 66 for the 2nd wicket without any alarms until Bell was adjudged lbw to Peter Maxwell in the 14th over for a well fashioned 26.
Not for the first time this season, Yasas Tillakaratne was the prime mover in seeing Lisburn home; this time he reached his half century off just 36 deliveries and with Hennie van de Merwe had scored the necessary 26 runs for victory. Hennie rattled off his not out 19 off only 14 balls while Yasas remained exactly 50 not out in the 18th over giving Lisburn a fully deserved win by 8 wickets.
The win took Lisburn to 56 league points and third place in the Premier League. Having lost their opening two league matches, Lisburn won 14 out of their last 16 games, a very fine performance.
Ulster Star
10/09/2010