Dunmurry firm helps send Miss NI's grandparents
to China for her big final date
by JENNY MONROE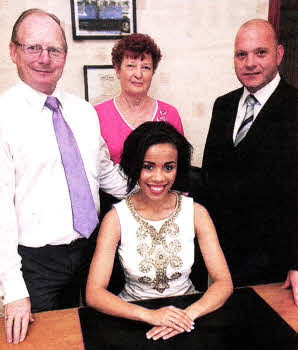 A DUNMURRY firm is helping to make a dream become a reality for Miss Northern Irelands grandparents who live in Suffolk, by sending them on an allexpenses trip to the Miss World final in China.
Lori Moore jets off to compete at the globally renowned beauty competition next month and her grandparents Victor and Roesemary Moore, thought they would be watching her take part in the finals from their home. That is until Lori informed them this week that Elwood and Capper funeral directors have organised a fundrasinig event to send the couple to china to support their grandaughter who they have been legal guardian of since her mother, their daughter, Grace died four years ago.
Rosemary said she was shocked and thrilled by the news. "Lori brought a card down the other night with 'bon voyage' written on it. I didn't know what to think. We are both over the moon. Knowing that we will be there to support her is great news.
"Victor and I would like to say thank you to all those involved - it is very generous and kind."
David Capper one of the fundraisers said he and his business partner Brian Elwood are delighted to help. He said: "We have known the family for several years and when we heard that Victor and his wife wouldn't be able to go to China we decided that we had to do something. We have organised a fundraising evening to take place on October 9 at the Beechlawn Hotel. We are hoping to raise
enough money to pay for their flights, accommodation and some spending money too. Special thanks must be given to Suffolk Football Club, Suffolk Community Group and Upper Falls Protestant Boys who have generously donated."
If you would like to show your support please contact 9060 5060 or 07799 130009 for more information.
Music for the event will be supplied by Second Foor Scandal. Doors open at 7.00pm and ticket prices are £10.00. You can pay at the door on the night too.
Ulster Star
24/09/2010