Theatre star Lori takes centre stage as Miss NI
by STACEY HEANEY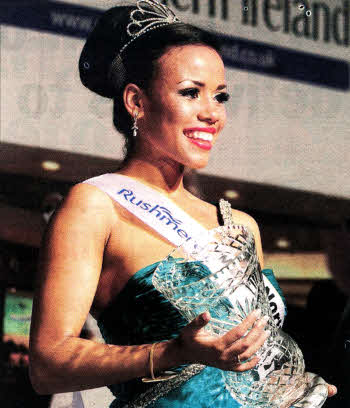 LOCAL girl Lori Moore took centre stage on Monday night when she was crowned Miss Northern Ireland 2010.
19-year-old Lori, who hails from Blacks Road, emerged from the 25 finalists to take the crown ahead of second-placed 21-yearold Nicky Cartmill and Julieanne Elliot, 18, who came third at the glamourous final at the Europa Hotel, Belfast.
The former Hunterhouse College pupil, who is a member of Fusion Theatre in Lisburn, was supported at the event by 12 members of family and friends, including her delighted grandparents Victor and Rosemary Moore and her boyfriend Raymond Walsh, who is from Lisburn.
"I just can't believe it, it still hasn't sunk in'" Lori said.
The delighted teenager, who is also a member of Lagan Valley Athletics Club, will now take a year out from her studies in Advertising Management at Northumbria University to concentrate on what will be a busy year as Miss NI.
Lori will now go on to represent her country at Miss World this November in Vietnam. "I'm ecstatic. Backstage no-one knew what was going to happen, we couldn't tell. When I was announced in the top 7 I thought, 'that's brilliant', but I didn't expect anything else. When I made it to the top 3 I didn't think I was going to win, it's just fantastic" she said.
Lori only decided to enter to competition to "occupy the summer"' however, she now has a diary filled with appointments for the next year, including an incredible five week trip to Vietnam in October for Miss World.
"I thought because I finished university in May and wasn't due back until October I would enter to occupy the summer. I haven't stopped since I won, I went to bed at 2.30am after the final and was up again at 5.30am for a photoshoot and then I helped to present awards at the NI Photographic Awards. I have so many things planned.,
And the local girl is especially looking forward to her trip to Miss World. She said: "I will spend five weeks in Vietnam in October, I cant wait. I'm really looking forward to it. Although it will be hard work competing against 120 other girls, but I will try my best and see what happens."
Lori's joy comes four years after her mother Grace was tragically murdered. The teen was just 16 when she found her mother's body at home.
Lori said her mother would have been "so proud" of her achievement. She stated: "She was really into this type of thing, always entering me into baby contests when I was young. She would have loved it and would have been so proud."
stacey.heaney@ulsterstar.co.uk
Ulster Star
25/06/2010