Lynda's double support for Marie Curie Cancer Care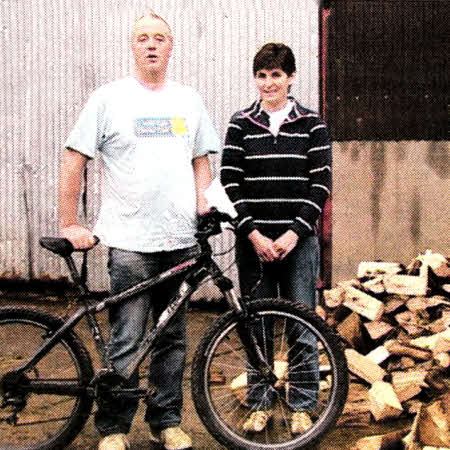 Alan Hunter delivering logs to Lynda Steele of Crumlin as part of her prize for entering a competition in aid of Marie Curie Cancer Care.
WHEN Mrs. Lynda Steele of Crumlin went for a day out to the Balmoral Show in May, she didn't expect to have a load of logs delivered to her house six months later.
But that was part of her prize for guessing the number of logs which were in a Fleming Trailer at the show. The idea started with Alan Hunter from Eglinton, who had decided he wanted to take on a Cycle Challenge for Marie Curie Cancer Care in Jordan to celebrate his 50th birthday.
Alan sells firewood from his farm. Along with fellow cyclist, Doreen Fleming they raised a substantial amount of cash during the three days at the show.
Mrs. Steele was the only person with the correct answer. Along with the logs, she also won a cash prize of £200 which she donated back to the charity. This meant that Alan and Doreen were able to send almost £6,500 to Marie Curie before beginning the actual challenge.
Ulster Star
03/11/2010