Lynn follows Pilgrim's path for Macmillan Cancer Support
by STACEY HEANEY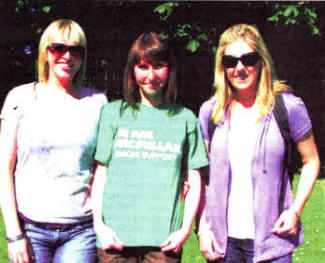 LOCAL teacher Lynn Ross will be following the Pilgrim's path this summer when she will celebrate turning 30 by taking part in a trek along the Way of St. James in aid of Macmillan Cancer Support.
Lynn, who hails from Dunmurry, decided to take part in the trek, known as the Camino de Santiago, which will take her from St Jean Pied-de-Port in the Pyrenees in France to Santiago de Compostela, Spain, with two friends to mark her 30th birthday this summer.
Through the trek Lynn is also hoping to raise £1,000 for Macmillan Cancer Support after the charity helped her father Don, who passed away from cancer four years ago.
Lynn, who teaches in Beechlawn School in Hillsborough, said she is excited about the trek but admitted that she and fellow teachers Cat Moore and Kelly McClements will face a daunting task as they arrange food and accommodation as they travel, leaving the three women relying on generous locals to help the pilgrims on their journey.
The Way of St. James is the pilgrimage to the Cathedral in the beautiful Galician city of Santiago de Compostela in northwestern Spain' where it is said the remains of the apostle Saint James are buried.
Lynn, a former pupil of Wallace High School, said: "When my dad was diagnosed with cancer Macmillan staff were fantastic. They stepped in straight away and set up a care package that enabled my dad to be cared for in his own home as he battled with his terminal illness. They were with us until the very end of his life and they have always been available whenever we've needed advice or support. They made a lot of things so much easier for us at such a painful time and we will be eternally grateful.
"The range of support that Macmillan offers patients and their families is immense and we all strongly believe in raising money for them so that they can continue to offer their free services to those who need it. We believe that it's time for us to give something back to them."
Holy
The local girls will begin their 780km journey on July 1, joining the many thousands along the route to Santiago de Compostela. This year will be extra special, seeing thousands making there way along the route as 2010 is a Holy Year, which occur when St. James's Day (July 25) falls on a Sunday and allows pilgrims reaching Santiago during a Holy Year, and fulfilling the conditions for it, to be granted a plenary indulgence.
Lynn explained: "It is a Holy year this year so accommodation will probably be tough to find. We plan to arrive and sleep where we can. Often locals' because it is a well walked route, will have 'Pilgrim's Rates' and you can stay in Monasteries so it is quite exciting but also daunting."
The three women will walk up to 30 miles each day for five weeks, having one rest day each week, and after completing the trek they will remain in Spain, where Lynn will celebrate her birthday on August 20.
The group have raised £525 so far and hope to achieve £1,000 for Macmillan Cancer Support. If you would like to sponsor Lynn, Cat and Kelly you can do so by visiting their fundraising page at www.justgiving.com/elcaminodesantiago2010.
stacey.heaney@ulsterstar.co.uk
Ulster Star
25/06/2010