Extreme heat and political unrest don't stop Ed and Austin
on 'mad' challenge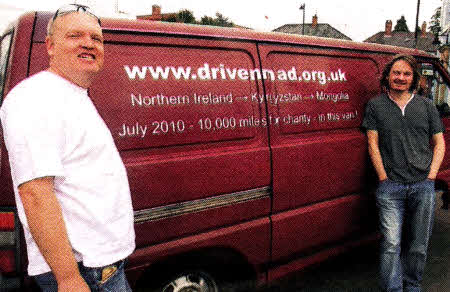 Austin McVeigh and Ed Booth of Team Driven Mad who are driving from Lisburn to Ulaan Bataar in Mongolia to deliver a working van with clothes and bedding to impoverished children in Central Asian Countries. US2810104A0
POLITICAL unrest, forty one degree heat and plenty of detours along the way aren't stopping local men Ed Booth and Austin McVeigh as they make their way to Mongolia to deliver a van and essentials to impoverished children this summer.
Ed, who works at Lisburn and Hillsborough Tourist Information Centres, and Austin are currently driving 10,000 miles from Lisburn to the capital of Mongolia, Ulaanbaatar, as part of the Driven Mad 2010 Challenge which will raise funds for Alpha Communities, a charity established in 1994 to give hope and help to children, families and communities affected by poverty in Mongolia and China.The pair left the city on July 9, after a send off from Lisburn's Mayor, Alderman Paul Porter in their Mitsubishi L300 van, in which they will drive 10,000 miles, 5,000 miles of which will be on unpaved roads, living and sleeping in the van throughout their journey.
And despite political unrest in Kyrgyzstan, where they were due to stop in the capital Bishkek, they carried on with their gruelling adventure, deciding instead to stop in Almaty, the capital of Kazakhstan, which is a hundred miles away from their original destination.
By Tuesday July 20, the pair were in eastern Ukraine, "after a nice day's drive through the countryside." It wasn't all fun and games, however, as they revealed on their blog that they were stopped by police and that they got lost for two hours, but they stated it was "all part of the fun!"
Ed and Austin made their way from Lisburn and then on through England as they travelled on to Europe, stopping in Bletchley Park, home to the Entgma machines, which helped to shorten World War Two by two years on the way to London, before they travelled through five countries in one day on July 15 making their way through the UK, France, Belgium, the Netherlands, before ending the day "sitting outside a pub in Dusseldorf, Germany."
By Saturday July 17, they had driven to Krakow, Poland where the heat. was almost getting the better of the pair as they wrote, "Short drive to Krakow today only 180 miles but 39 degrees kept us and the van hot. Tomorrow we've a long day ahead -550+ miles and our first non-EU border crossing. I reckon 13 hours on the road..."
So far Ed and Austin have encountered severely potholed roads and spent up to 15 hours driving in extreme heat some days, working in a visit to Chernobyl along the way, however, they have many more miles ahead of them before their journey is complete.
To keep up to date on where in the world Ed and Austin are and how their challenge is going, you can follow their blog online at,. https://mongolia.charityrallies.org/teams/12353/blogs/map.
stacey.heaney@ulsterstar.co.uk
Ulster Star
23/07/2010